London, UK – 07/01/2015– Award-winning digital media agency 7thingsmedia has been selected by James Villa Holidays to manage their social media strategy and execution.
In a competitive pitch, 7thingsmedia were selected based on their understanding of the brief and range of creative travel specific social media ideas presented to James Villa Holidays.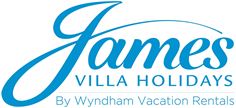 James Villa Holidays Logo
Starting immediately, 7thingsmedia will be tasked with setting the strategy for social-first content. In addition the agency will be responsible for bringing the existing James Villa Holidays brand experiences to life through a plethora of social media channels, specifically via branded content, imagery and editorial publishing.
Sally Pemble, Digital Acquisition Manager at James Villa Holidays: "We saw a number of leading digital agencies before ultimately deciding to appoint 7thingsmedia who were clear winners. We were thoroughly impressed with their creative ideas to lead social-first content for James Villa Holidays. Plus, having a strong existing relationship with 7thingsmedia therefore first-hand experience of their all-round digital knowledge, made it a simple decision to select them."
Chris Bishop, Founder & CEO of 7thingsmedia commented: "The team and I are thrilled to further cement our relationship with James Villa Holidays by adding social media to our existing campaign activity. Working together, we are going to have a lot of fun executing the social media strategy presented during the pitch."
The agency has been managing James Villa Holiday's affiliate activity since 2012, including achieving highest monthly revenue figures in their nine year history last January.
ENDS
About 7thingsmedia
7thingsmedia is a global digital media agency with a proven track record of delivering hugely impressive returns for clients such as boohoo.com, French Connection, Graziashop.com, James Villa Holidays, Konga.com, Shoeaholics and Ted Baker.
With offices in London, New York & Singapore; 7thingsmedia's services span the digital marketing mix; affiliates, display, lead generation, mobile, PPC, SEO and social media.
7thingsmedia – http://www.7thingsmedia.com
Twitter – @7thingsmedia
Contact:
Annabelle Ottaway, Marketing Manager, 7thingsmedia, annabelle.ottaway@7thingsmedia.com +44207 017 3193