19 April 2011 – NewVoiceMedia has promoted Jonathan Gale to the role of CEO (Chief Executive Officer), to help accelerate growth and strengthen the company's share of the SaaS telephony market.
Gale joined the company in October 2010 as CCO (Chief Commercial Officer). Now as CEO, Gale will align NewVoiceMedia's product and growth strategy to position the company as a leader in the cloud contact centre market.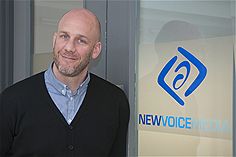 Jonathan Gale
Prior to joining NewVoiceMedia, Gale held senior roles at Mimecast and MessageLabs. At MessageLabs his roles included VP of EMEA, VP of Global Sales and SVP of Product. Previously, he spent over 10 years in senior roles in the call centre market, including at BT.
Gale explains: "The contact centre market is realising the power of the Cloud and this is bringing rapid change to the industry. NewVoiceMedia aims to revolutionise the traditional contact centre market in the same way that MessageLabs disrupted the email security market, and salesforce.com redefined the CRM market, and I am excited to be driving this change.
The vast majority of contact centres are failing to deliver a rewarding experience to their customers and staff; they are neither good places to work in, or to contact. With traditional technology, call centre agents work under restrictive systems which makes it difficult to provide a great service to customers, leading to frustration for both parties. We are leveraging the cloud to revolutionise the market and make call centres a better place to work in, and to interact with.
As we continue to strengthen our offering we have achieved massive sales growth in the last few months with more and more businesses realising the benefits of moving their contact centres to the cloud."
-ends-
About NewVoiceMedia
NewVoiceMedia helps businesses of all sizes improve call handling, at an affordable cost.
Smaller businesses can take advantage of a sophisticated telephony solution that identifies callers, prioritises and routes them effectively. Larger companies operating a call centre can take advantage of a more flexible system that doesn't require specialist expertise or months of time to implement or adapt.
NewVoiceMedia's telephony solution is delivered using cloud-based technology, which provides the functionality of an on-premise solution at a fraction of the price. We are currently active in 16 countries with over 300 customers, including; Berry Bros & Rudd, Kingston University, Long Tall Sally, Parcelforce and SHL Group.
For further information, please visit http://www.newvoicemedia.com
NewVoiceMedia press contacts:
Paul Stallard / Hannah Byrne / Olivia Calvert
Berkeley PR
0118 988 2992
nvm@berkeleypr.co.uk