Tobii Technology, the global leader in eye tracking and eye control, unveils Tobii EyeAsteroids™, the world's first arcade game that is totally run by eye control.
"We believe the addition of eye control to computer games is the most significant evolution point in the gaming industry since the introduction of motion control systems, such as the Nintendo Wii," said Henrik Eskilsson, chief executive officer of Tobii Technology. "Gaze interaction is fast and intuitive, adding an entirely new dimension to video game interaction. Players are now able to immerse themselves into a game like never before, taking competition to a completely new level."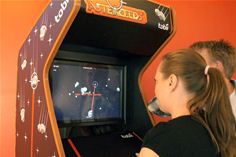 EyeAsteroids arcade game 1
Tobii EyeAsteroids offers gamers a unique experience in a classic arcade game style; the player has the chance to save the world from an impending asteroid collision. As the asteroids move closer to Earth, the gamer simply looks at them in order to fire a laser that destroys the rocks and saves the world from destruction.
When playing the eye-controlled Tobii EyeAsteroids, the user's hands become superfluous to the game's success. The speed at which the eyes can target the asteroids is many times higher than what can be accomplished using the hands. During initial testing, one consumer stated; "This is a new kind of gaming experience, very laid-back and casual gaming. The time gap between decision and action is virtually non-existent. That's pretty unique in a gaming scene ruled by the latencies caused by mouse, keyboard and especially gamepad input."
The first of its kind arcade game will begin its world tour on 8th November 2011 at Dave & Buster's Times Square, New York City, where it will remain for two weeks and will then be on display in London later in the month. From 10-13th January 2012, Tobii Eye Asteroids will be featured in the Tobii Technology booth at the International Consumer Electronics Show (CES) in Las Vegas.
"EyeAsteroids is another example of how seamless the adoption of eye tracking can become in our everyday lives and how the integration of eye tracking in consumer electronics can benefit the overall user experience," said Barbara Barclay, general manager of Tobii North America. "With this product we are able to help revolutionise this industry as it looks to the future of gamer interaction beyond that of motion gaming and dance pads."
-ENDS-
Notes to editors
Tobii EyeAsteroids is available for purchase by companies and individuals. There will be a limited production run of 50 units available for $15,000 USD each. For more information or to fill out an order form, please visit www.tobii.com.
We are looking to arrange the Eye Asteroids journalist event in London at an arcade/gaming venue. We are happy to provide the arcade device to said venues first in the UK. Any recommendations or queries would be much appreciated.
View a video demonstration of Tobii EyeAsteroids.
Media contacts
In UK:
Danielle Mumford, Berkeley PR, 0118 909 0909, Danielle.mumford@berkeleypr.co.uk
In Europe:
Sara Hyléen, Head of PR, Tobii Technology, +46 709 16 16 41, sara.hyleen@tobii.com
In the U.S.:
Kristina Messner, Focused Image, (703) 678-6023, kmessner@focusedimage.com
About Tobii Technology
Tobii Technology is the world leader in eye tracking and eye control, a technology that makes it possible for computers to know exactly where users are looking. Tobii's leading eye-tracking technology has already transformed research in many fields and enabled communication for thousands of people with special needs. In these markets, Tobii offers comprehensive product lines. Eye-tracking technology will revolutionize the way that we interact with computers, becoming a fundamental part in the next-generation natural user interface. With gaze, computer interaction and games become faster, more intuitive and more fun. Tobii also provides market-leading eye-tracking technology in areas such as car manufacturing and driver safety, imaging/PACS, diagnostics, security and more. Founded in 2001, Tobii continues to achieve rapid annual growth and receive awards and recognition for its accomplishments. Based in Sweden, Tobii has a global presence with offices in the U.S., China, Germany, Japan and Norway, and a worldwide network of resellers and partners. For more information, visit www.tobii.com.