KALEAO offers a new "true-converged" solution, built to support hybrid and physically secure environments, bringing new efficiency to enterprise data center architecture
CHARLOTTE, NC and CAMBRIDGE, UNITED KINGDOM – April 17, 2018 – KALEAO, the technologically innovative server solutions company, today announced the introduction of KMAX-EP, the newest version of KALEAO's flagship solution for the server infrastructure market. KMAX-EP builds on the market leading scalability and cost benefits of KALEAO's initial KMAX offering, now known as KMAX-HD, which is optimized for hyperscale deployment. KMAX-EP offers the total cost of ownership advantages of a hyperconverged solution further enabling the digital transformation of enterprise markets.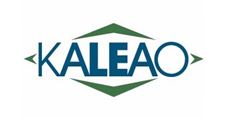 KALEAO logo
"We see KALEAO's version of hyperconverged filling a true need in the industry and gaining traction," said Mike Leone, Senior Analyst at Enterprise Strategy Group. "The value proposition of KALEAO around consolidation of resources is powerful, especially as more compute-intensive use cases, like IoT, continue to emerge. With the opportunity of satisfying real-time performance needs at the edge, KALEAO's unique approach warrants and is worth consideration."
Designed specifically to meet the needs of enterprise infrastructure, KMAX-EP's fully integrated 4U chassis, power supply options, and pure, single-sided access further enables key applications for IT leaders including:
Consolidation of IT services to bring resources together, to lower operational expense, and deliver corporate data governance while reducing management complexity
Service delivery using private enterprise cloud models for enhanced data security and protection
Modernization of the enterprise data center with new levels of scalability and efficiency
KALEAO's KMAX product line moves hyperconverged infrastructure a step further, to what it calls "true converged," delivering a consolidated software-defined platform integrating computing and storage and now with integrated networking to be deployed one chassis at a time. The KMAX-EP and KMAX-HD products deliver up to 10 times the compute density of other hyperconverged offerings while consuming a quarter of the power due to KMAX's optimized scale-out architecture. KMAX also benefits from the use of low-power ARM 64-bit processors.
"It is an exciting time at KALEAO as we've begun to expand our technology offerings based on customer feedback and market demand. Our KMAX-EP is the next logical step in bringing true converged infrastructure to more global organizations," said Greg Nicoloso, CMO and Co-Founder, KALEAO. "We're pleased to announce the latest addition to our portfolio, KMAX-EP, today as we look forward to releasing additional offerings and configurations."
All KMAX products are available in a Server Edition to deliver a managed bare metal environment, and an Appliance Edition, delivering out of the box services. Initial Appliance versions include the OnApp Hyperconverged Infrastructure (HCI) Platform for software defined infrastructure as a service (IaaS) with centralized system management, for multi-tenant OS and Docker-based applications deployment. Additional appliance editions are in development.
The new KMAX-EP may be ordered now and will be generally available in the second half of 2018. Enterprises who want to conduct a functional evaluation of the benefits of KMAX may contact KALEAO directly for further information.
Link to Infographic: http://www.kaleao.com/EvolutionDataCenter
About KALEAO:
KALEAO is spearheading the new generation of enterprise and cloud computing by natively converging computation, storage, networking and virtualization into compact, energy efficient, transparent, integrated hardware and software solutions. The KMAX portfolio offers true converged infrastructure in an extremely compact, scalable and low power platform. KMAX provides all the benefits of hyperconvergence with advanced software defined hardware and integrated appliance level web-scale application delivery and management platform. KMAX delivers more for less, enabling the effortless deployment and management of the services required across the cloud and modern business. Find out more about the KMAX portfolio and KALEAO at www.kaleao.com
For more information:
Joanne Hogue
Smart Connections PR
(410) 658-8246
joanne@smartconnectionspr.com