Employees at KCOM Group recently completed the TrekFest Challenge 2013 in the Peak District to raise over £4,000 for its Charity Partner, Sparks, which funds life-saving research into conditions affecting babies, children and mums-to-be.
The TrekFest challenge is split into two parts: you can either embark on a 27 mile walk to be completed in 12 hours, or if you're feeling particularly brave, take on 54 miles in 24 hours.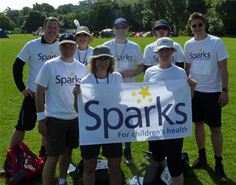 KCOM Group team ready to trek to victory
The group of eight set off in the early morning, on one of the hottest days of the year, to complete the gruelling task ahead. KCOM's 54 mile team completed the task, walking through the night, in 22 hours; the 27 mile team finished in just over 12 hours.
Marketing Manager at Kcom, Helen Lancaster, said: "The Trek was challenging, unforgettable and enormously enjoyable. Despite all the blisters and the insects attacking us we all had a fantastic time, which was made more worthwhile after we raised enough money to help Sparks make a difference with their research."
TrekFest invites participants to tackle some of the best walking trails the UK has to offer. The challenge is to complete the route within the allocated time frame. Hundreds of participants successfully completed the mammoth endurance challenge this summer.
-END-
Editor's notes
Pictures available on request.
For further information, please contact:
Laura Cavanagh - PR Executive
laura.cavanagh@kcom.com 01924 882885/07738785435 LinkedIn
About Sparks
Since 1991, Sparks have committed £24 million into pioneering research projects across a wide spectrum of medical conditions including childhood cancers, cerebral palsy, premature birth and spinal bifida. In total, the charity has funded over 250 research projects in more than 80 hospitals and universities across the UK.
Through the research they fund, they aim to improve the quality of life for children and families affected by serious illnesses or disabilities, whilst seeking better ways to diagnose, treat and prevent these conditions in the future.
From the medical breakthroughs, they make it possible to make a difference, not only across the UK, but for thousands of children and families around the world.
Registered charity number 1003825 (England and Wales), SCO39482 (Scotland)
About KCOM Group
KCOM Group is a leading provider of communications services to both consumer and business markets across the UK. Kcom, Smart421, KC and Eclipse are KCOM Group's four distinct brands that help to passionately pursue better ways to connect people and deliver inspiring customer services.