London September 7, 2010 - Kodak announces it is expanding its photo capture scanning range for retail and niche service markets with the release of the KODAK Picture Saver Scanning System PS410 and PS810 in the EAMER[1] region.
Businesses can gain a service-driven revenue opportunity when they use these systems to help consumers digitise "printed memories" - photo prints, picture collections and keepsake documents. The digital images provide further money-making opportunities for businesses that offer premium photo products and services.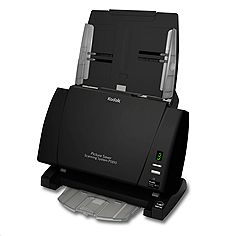 Kodak Picture Saver System PS810
The Picture Saver Scanning System's available output options include KODAK Picture CD, photo DVDs, CDs, photo archive services, premium photo product production, photo book publishing, photo memorials and tributes, digital scrapbooking and online photo services such as KODAK Gallery.
Richard Broden, EAMER Products Marketing Manager, Document Imaging, Kodak's Business Solutions and Services Group, said, "The Picture Saver Scanning System creates an integrated service offering for virtually any industry to help build a profitable service from rapid photo scanning. Businesses and service providers can generate new revenue streams by using the Picture Saver Scanning System as a cost-effective, high-throughput bridge between consumer 'printed memories' and the wide range of uses available for digital images."
Potential applications include photo scanning services for retail, specialty and traditional retail, online and direct service firms, funeral homes, photo labs, bookstores, libraries, wedding and event photographers and quick printers.
The PS410 and the higher capacity, feature-enhanced PS810, both offer efficient batch photo scanning driven by hardware and software features. The new KODAK Gentle Photo Separation Module optimises the scanner's transport module to protect the physical condition of photo prints.
KODAK Perfect Touch technology provides advanced image enhancement tools to perform image retouch, red-eye enhancement, image sharpening and red-eye removal. Additional imaging tools include software-based image cleaning and on-the-fly image inspection and quality reviews with a large, one-up view of images as they are scanned.
KODAK Picture Scanning Software also supports a new, flexible workflow designed for the busy operation which allows an operator to seamlessly move between editing and scanning pictures across customer orders.
"This behind-the-counter solution allows businesses to offer high-margin photo services with a low capital investment. Category unique features, such as Gentle Photo Handling and output to enhanced KODAK Picture CDs, add to batch scanning speeds that far outpace conventional flatbed scanners," said Broden. "Retailers and service providers tell us these powerful systems return the investment within a mere 3 to 4 months."
The production-level PS810, designed expressly for photo scanning production operations, is priced at €2,495, and scans up to 65 4 x 6 inch photographs per minute from a high capacity, continuous feed automatic document feeder (ADF) that holds up to 100 photos. The ADF enables users to continuously add photos to the top of the stack during scanning to yield optimal efficiency and constant operations.
The PS810 includes features to allow busy operations to ramp up quickly while meeting the needs of picture-centric consumers. It includes a starter 10-pack of KODAK Picture CDs, and unique software options such as the ability to apply Image Sharpening during the scanning process, rather than as a post-scan option only which saves time and processing power. It also offers the ability to rotate images 180 degrees with one click.
The PS410, priced at €1,495, also comes equipped with the continuous-feeding ADF and scans up to 30 photos per minute.
Tim Vaughan, Director, Capture Systems, Document Imaging, Kodak's Business Solutions and Services Group, said, "With the Picture Saver Scanning System, businesses can help their customers discover new ways to share the memories contained in photo prints. The system provides an 'on-ramp' for integrating content-rich prints into digital photo services and photo publishing products, as well as sharing via online social networks. With photo-optimised hardware and user-friendly software, this system can equip virtually any business with the tools to build a new revenue stream from photo capture services."
The KODAK Picture Saver Scanning System will be demonstrated on the Kodak stand in Hall 5.2 at Photokina, the world's leading fair for photography and imaging, in Cologne from September 21 – 26, 2010 or go to www.kodak.com/go/PictureSaver for more information.
KODAK products are backed by KODAK Service and Support. KODAK Service and Support is made up of more than 3,000 professionals reaching more than 120 countries. It is a leading multi-vendor integrated services provider, delivering consulting, installation, maintenance and support services for the commercial printing, graphic communications, document imaging, data storage and retail industries.
KODAK Service and Support professionals are uniquely qualified to provide services that control costs, maximise productivity, and minimise business risk.
- ENDS -
[1] Europe, Africa, Middle East regions
About Kodak
As the world's foremost imaging innovator, Kodak helps consumers, businesses, and creative professionals unleash the power of pictures and printing to enrich their lives.
To learn more, visit http://www.kodak.com and follow our blogs and more at http://www.kodak.com/go/followus.
More than 75 million people worldwide manage, share and create photo gifts online at KODAK Gallery - join today at www.kodakgallery.com.
More information about KODAK Document Imaging Scanners, Capture Software and Services is available at www.kodak.com/go/docimaging
Contacts:
Tom Herbst PR Limited
Tom Herbst
Director
Tel: +44 (0)207 274 9937
Mob: +44 (0)7768 145571
Email: tom@tomherbstpr.co.uk