Satellite operator will use Newtec's multiservice platform to start its affordable connectivity service to public institutions, consumers and enterprises in the Pacific
SINGAPORE and SINT-NIKLAAS, Belgium, 26 April 2016. Leading satellite operator Kacific Broadband Satellites and Newtec, a specialist in designing, developing and manufacturing equipment and technologies for satellite communications, today announced they have agreed on a cooperation for powering Kacific's interim services using Newtec Dialog® to be deployed and to provide affordable satellite broadband connectivity in the Pacific.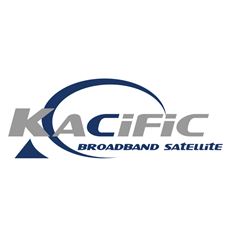 Kacific logo
The multiservice platform will initially be used to deliver Internet connectivity to a number of schools in the Republic of Vanuatu. Kacific will be expanding its broadband service delivery to consumers, enterprises and other public institutions in places where Internet connectivity is lacking due to poor or non-available terrestrial infrastructure. The whole of South-East Asia and the Pacific, from Sumatra, Indonesia, to the French Polynesian archipelagos will ultimately benefit from the Kacific broadband service.
Kacific will provide interim Ku-band capacity to customers in the Pacific, ahead of the launch of its new Ka-band satellite.
"Our aim is to deliver fast, accessible and affordable direct-to-premises broadband connectivity to areas where other types of connectivity are absent, substandard and unaffordable, as is often the case in the Pacific," said Kacific CEO Christian Patouraux. "Newtec Dialog is, in our opinion, an excellent choice. It is a highly scalable multiservice platform that supports a wide range of applications and services. And we will enjoy advantages over other offerings in terms of cost-efficient usage of satellite capacity and bandwidth savings. Thanks to Newtec's advanced modulation technologies, such as the new DVB-S2X standard, and its unique Mx-DMA® technology, Kacific will be able to deliver many different types of satellite connectivity – all at the most efficient and competitive rates."
As a multiservice platform, Newtec Dialog enables tailored services and guarantees optimal modulation and bandwidth allocation, whether it is being used to provide enterprise, consumer broadband, cellular backhaul or mobility services.
It features Newtec's return link technology Mx-DMA, which delivers the efficiency of SCPC with the dynamic bandwidth allocation of MF-TDMA, making Kacific's services more bandwidth efficient and enabling services to run more reliably than before.
Newtec's CEO Serge Van Herck said: "Kacific is committed to providing agile and cost-effective services and we are delighted to be able to help them build on this by supplying our Newtec Dialog platform. As well as meeting the operator's needs today, we are also confident that thanks to the scalable nature of Newtec Dialog, it will continue to meet Kacific's needs long into the future and that it will help to close the digital divide in many underserved areas not just in the Pacific, but in South East Asia and beyond."
- ENDS -
Your Contacts
Newtec
Kerstin Roost
Public Relations Director
Tel: +49 30 430 95 562
Kerstin.Roost@newtec.eu
Kacific
Allan Botica
Botica Butler Raudon Partners
Tel: +64 21 400 500
allanb@botica.co.nz
Additional Photos
High resolution photos of Kacific's and Newtec's CEO on request.
About Newtec
Newtec, www.newtec.eu, is specialized in designing, developing and manufacturing equipment and technologies for satellite communications. As a pioneer in the industry, Newtec is dedicated to creating new possibilities for the broadcast, consumer and enterprise VSAT, government and defense, cellular backhaul and trunking and mobility, offshore and maritime markets. Our products and technologies can be applied in a wide range of single and multiservice applications from DTH broadcasting, video contribution and distribution and disaster recovery and backbones for cellular backhauling, to small and medium enterprises, SCADA and oil and gas networks, aircrafts and vessels.
Since 1985, our dedicated team of specialists has set industry standards with the most efficient, scalable and economical technology solutions. New challenges and customer needs offer opportunities to explore new boundaries. This empowers us to work even harder, helping customers to perform their best so that, together, we can make the world a safer, more informed and connected place. As a result, more than 3 billion people watch TV every day thanks to Newtec technology.
Newtec is a European company founded in 1985. Through commercial offices in Sint-Niklaas (Belgium), Dubai (UAE), Singapore, Beijing (China), Sao Paulo (Brazil) and Stamford, CT (USA) as well as an extensive network of over 100 certified partners, Newtec can meet customer's needs worldwide.
About Kacific
Kacific Broadband Satellites Pte Ltd, www.kacific.com, is a satellite operator developing a broadband offering for the underserved Pacific market. It plans to address the gap in supply with a satellite specifically designed for this market and using the latest multi-beam and high throughput space communications technology transmitting over the Ka-Band.