Kcom launches "Workplaces" – A suite of next generation managed communication services
11 December 2012 Kcom, part of the KCOM Group, has launched a new suite of utility based managed communication services, which provides organisations with the opportunity to develop a clear roadmap to transform their customer contact and business collaboration capabilities, whilst overcoming many of the barriers associated with investing in new capital intensive on premise based technology.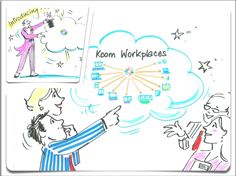 Kcom introduces Workplaces
The suite of services, called Kcom Workplaces, which enables users to be productive from wherever they are includes contact centre and unified communications capability, and is fully flexible, based around a "per user" utility pricing model. This gives customers the ability to invest in technology based on average usage levels and add additional temporary capacity as and when required around periods of high demand. This flexibility is ideal for companies that have to cope with significant peaks in activity, for example retail organisations during the Christmas period.
"Investing in an in-house solution can be daunting, particularly against the backdrop of tightening of capital investment budgets", says Sally Fuller, Director of Strategic Propositions for Kcom. "Not only do CIOs need to ensure they have the in-house skills to run the service, but they need to know it's resilient enough to cope with peak times of demand. To achieve that service continuity and elasticity has historically resulted in a significant upfront capital investment and protracted on premise deployment time frames and underutilised assets."
Kcom's Workplaces suite provides companies and public sector organisations with the ability to take a phased approach to introducing the new services as it can be implemented in alignment with business requirements and unpredictable spikes in supply v demand. Workplaces suite of services can also be run alongside existing on premised based technology capabilities, allowing for a smooth trouble free transition and enabled clients to maximise the value of their legacy investments.
"Customers we've spoken to recently are really excited about the capability that our Workplaces services can offer them", says Sally. "They are facing pressure to refresh ageing technology which is running out of vendor support and presents risk to the business. They are constrained by decreasing IT capital budgets and have to demonstrate a reduced cost of ownership and rapid return on investment. At the same time, need to show how any investment can deliver a clear link between the functionality they want to offer to customers today and a roadmap to the future."
Sally adds, "For the Board, it's essential that they not only see how technology can transform the way they operate but see how it can save them money in the long run. A CIO won't ever be given money just to be innovative. By doing more with less, IT teams can demonstrate how they drive value within their business; Workplaces is the suite of managed services to help them achieve that."
Kcom Workplaces has been developed in strategic partnership with Cisco utilising their Hosted Collaboration Service technology architecture coupled with Kcom's UK based Data Centres, Managed Service Centre, Service Desk and innovative customer service portal.
In a recent joint webinar with Kcom, Patrick J Romzek, VP of Global Market Development, Collaboration Solutions, at Cisco said: "We're really excited about partnering with Kcom because Workplaces offers the best of both worlds. We believe we can utilise our innovation but more importantly, we're really excited about Kcom's ability to deliver this to the market. Their market coverage, their scaling and operational capabilities are really first class and as a result we think it's the best combination."
Notes to editors
The technology:
Kcom Workplaces is the first in the UK and one of only four globally to deploy enterprise-grade Contact Centre (Unified Contact Centre Enterprise) as a cloud-based model;

UCaaS (Unified Communications as a Service) and Contact Centres are just the first phase of a strategic, highly innovative roadmap which includes Enterprise Social Software and Bring Your Own Device as part of the Future of Work initiative;

Kcom will maintain the services, meaning that there are extensive cost savings when it comes to not having to manage on-site equipment;

This solution is completely scalable; it can be adjusted to respond to peaks in demand or be downgraded when the need isn't there. It can be consumed as and when you need it.
Download a copy of the Kcom and Gartner Total Cost of Ownership model: The Business Case for Change: UC, Collaboration and Contact as a Service.
For further information, please contact:
Russell Lindsey or Anne-Marie Lavelle, Rocket Communications
t. 08453 370 7024
e. kcom@rocketcomms.net
About Kcom
Kcom, part of the KCOM Group PLC, provides communication services for multi-site enterprise and public sector organisations across the UK, and has a well-established reseller channel. As an independent provider of these services, supported by its BT Wholesale partnership, Kcom is able to offer advanced network capability and related added value services, coupled with a flexible approach to delivering a different class of service to its customers.
Its customers include Domino's, Morrisons, British Airways, North Wales Police, Specsavers, City of London, Phones4u, Rosslyn Analytics, Hermes, Windsor Telecom and Diva Telecoms.