Kcom, part of the KCOM Group, is delighted to announce that they have become the sole commercial sponsor of the Yorkshire Cricket Foundation's Cricket in the Classroom programme.
Cricket in the Classroom (CITC) was set up in 1996 in partnership with Leeds City Council. The council provided Yorkshire County Cricket Club (YCCC) with funding for their Cricket Centre to provide coaching sessions and offer reduced booking rates for children and for projects in the local community.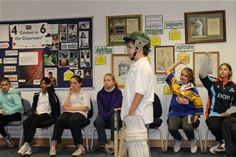 Cricket in the Classroom
Kcom became involved in sponsoring CITC, after witnessing its growth and increasing popularity year after year. Since 1996, they have had approximately 25,000 children visit Headingley cricket grounds from around 500 schools in Yorkshire. In this academic year (2012/13) CITC have had over 4,000 children, from 85 schools visit the centre.
The CITC programme is aimed at Key Stage 2 children from across the county and, during term time, they run weekly sessions, which are focused on mixing education and sport with cricket orientated activities. Literacy and numeracy are incorporated, with the use of Games and quizzes, making learning fun and interactive. Basic sport skills development such as batting, bowling, fielding, throwing and catching is also part of the programme. By playing games, it encourages the young pupils to engage and experience the value of being a part of a team.
The fun-based learning environment helps children develop new skills and encourage participation. The programme runs alongside the school year and is provided free of charge to the schools that take part.
Sam Hinchliffe, Cricket Centre Operations Manager said: "The programme allows a fun filled day at an international cricket stadium through classroom based learning and practical activities for children from years five to seven (ages 9-12). Yorkshire Cricket Club is one of, if not the most famous cricket club in the world and we pride ourselves on educating our local community through the Cricket in the Classroom Programme. We look forward to continuing this programme for as long as possible and we can't give enough thanks to those already involved."
Will Saville, Community Development Manager said: "Cricket in the Classroom is a fantastic scheme and has become extremely popular with primary schools across Yorkshire. This academic year is the first time CITC has been fully booked which is testament to what schools think of the programme. We are very grateful for the partnership with Kcom. With their support, we are able to continue to offer this opportunity for free to school children in the county."
Stephen Long, Managing Director at Kcom said "It is great to have such a local presence in the Yorkshire region, especially given the local legacy the business has, in terms of both customers and employees. We look forward to working with the teams here to build a strong long term partnership which will benefit us, the club and the wider community."
-END-
Editors' notes
If you would like to attend one of the sessions to see Cricket in the Classroom in action, please contact either Bianca or Laura – details are below.
The sessions for CITC for the next month are every Wednesday and Thursday apart from Wednesday 13th March.
For further information, please contact:
Laura Cavanagh - PR Executive
laura.cavanagh@kcom.com 01924 882885/07738785435 LinkedIn
Bianca Keeble - PR Manager
bianca.keeble@kcom.com 01924882797/07720311540 LinkedIn
About Kcom
Kcom, part of the KCOM Group PLC, provides communication services for multi-site enterprise and public sector organisations across the UK, and has a well-established reseller channel. As an independent provider of these services, supported by its BT Wholesale partnership, Kcom is able to offer advanced network capability and related added value services, coupled with a flexible approach to delivering a different class of service to its customers.
Its customers include Domino's, Morrisons, British Airways, North Wales Police, Specsavers, City of London, Phones4u, Rosslyn Analytics, Hermes, Windsor Telecom and Diva Telecoms.