ZBD's epaper system gains momentum in UK retail market
ZBD, the leading provider of fully graphic epaper display systems for retailers and industrial users globally, today announced that Kiddicare, the UK's largest online baby equipment retailer, has chosen to roll out ZBD's epaper system across its entire store estate.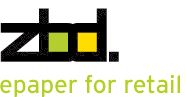 ZBD logo
Kiddicare initially trialled ZBD's epaper system at its flagship store at its Peterborough HQ. The multi-channel model proved successful, giving Kiddicare the ability to synchronise pricing and information online and in-store. Following the success of the trial, Kiddicare has committed to a wider rollout across all new superstores.
Kiddicare has built its reputation as the UK's leading baby equipment internet retailer by delivering an award-winning website and superior customer service. It was acquired by supermarket giant Morrisons in 2011 and has since taken over the leases of 10 former Best Buy stores to expand its physical store network. Kiddicare is in the middle of an ambitious store launch programme that will see 10 new superstores open over the next year.
Kiddicare's first superstore opened in Nottingham in September 2012 with a variety of technologies to enhance the customer experience, including touch-screen 'browse and order point' technology with barcode scanning allowing shoppers to check product availability as well as choose from multiple delivery options, free WiFi, in addition to ZBD's epaper system.
Scott Weavers-Wright, Chief Executive of Kiddicare commented: "As a multi-channel retailer, keeping store pricing in line with our website is one of our biggest challenges. ZBD's technology removes the limitations of paper from the equation, allowing us to deliver a seamless, consistent experience to our customers, however they engage with us. The ZBD solution gives our in store teams the chance to focus on what's important – wow customer service."
"With ZBD's fully graphic displays, we can now add QR codes to the shelf to provide additional information on customers' mobile phones, or store assistants' tablets. This information could include product demonstrations, customer reviews or anything else that will enhance the shopping experience. It's all available via our free in-store Wi-Fi network."
Shaun Gray, ZBD CEO, said: "As a company recognised for its innovative technology, it's great to work with a pioneering multi-channel retailer such as Kiddicare and we are delighted that they have chosen us to be part of their growth strategy. Their shoppers can trust that Kiddicare can accurately deliver all of their corporate price policies in real-time."
"Our partnership with Kiddicare shows that we are gaining momentum within the UK thanks to our multi-channel capabilities - and other customer announcements will follow."
ENDS
Notes for editors
About ZBD:
Formed in 2000 out of QinetiQ, ZBD is a pioneering company with its own R&D, full IPR and scalable manufacturing processes that enable it to deliver an epaper solution with practical commercial advantages for retailers.
ZBD is a leader in the design and supply of electronic shelf edge labels and associated software solutions for the retail industry. The company has developed the next generation of LCD, creating high-contrast bistability that requires no battery power to retain its image. Its range of epaper displays provides retailers with a total store solution and the ability to manage and update pricing, product and promotional information at point of purchase, dynamically.
For further information on ZBD, visit http://www.zbdsolutions.com or follow ZBD on Twitter at @zbdsolutions.
Media contact at ZBD:
Sarah Hool
Tel: +44 (0)1344 292 110 or +44 (0) 7753 573 490 (mobile) | sarah.hool@zbdsolutions.com
Georgia Hanias / Judith Massey
Tel: + 44 (0) 207 6389571 | zbd@citigatedr.co.uk
About Kiddicare:
Baby specialist Kiddicare was established in 1974 and became part of the Morrisons family in February 2011.

Kiddicare has won multiple awards for excellence in online, delivery, product range and customer services from influentials including Mother & Baby, Which? and Retail Systems.

The first of ten new destination Kiddicare superstores to open on former Best Buy retail sites, acquired with parent company Morrisons earlier this year, was Kiddicare Nottingham in September 2012. Birmingham and Thurrock locations will open before Christmas.

By the end of 2013 over 1,000 staff will be employed by Kiddicare.

Over 1m customers visit Kiddicare.com each month.