October 8, 2014 — Research shows 87% of business applications are web-based yet only 2% of firms use web technology for document scanning [1]. To address this, Kodak Alaris announced today a third model in its ScanMate series - the KODAK ScanMate i1180 Scanner. The new scanner allows easy connection to thin client systems or web-based applications in companies running Intranet environments.
New KODAK Info Input Solution software is available too. It works in sync with the KODAK ScanMate i1180 and other scanners and is a secure web-based thin client document capture solution. It automatically captures, classifies and extracts information from paperwork and eliminates any need for expensive thick client infrastructure.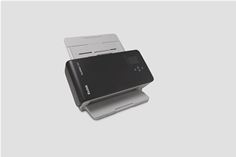 New Kodak ScanMate i1180 scanner closed trays
Hauke Fast, Kodak Alaris' EAMER product marketing manager, says, "Web-based or a thin-client architectures allow organisations to speed up adoption of new business applications whilst minimising support costs. The ScanMate i1180 does all its image processing locally within the scanner. This minimises the need to purchase and support high-end PCs and reduces the impact on network performance due to traffic congestion."
The KODAK ScanMate i1180 is a comprehensive scanning package
Like the recently announced i1150, the ScanMate i1180 comes with integrated barcode recognition - supporting nine barcode types – and has a customisable colour LCD interface to help users quickly identify where to send captured images. Intelligent Document Protection safeguards against jams, and the ScanMate i1180 offers TWAIN and ISIS driver compatibility to make it simple to integrate with other applications. The ScanMate i1180 includes one button Smart Touch functionality so users can start business processes and scan to predefined locations.
Able to process 40 pages per minute with a recommended volume of up to 5,000 pages per day, the ScanMate i1180 comes with a full license for the EMC Captiva Cloud Toolkit to make it straightforward for developers to write their own thin client or web capture applications. This is the first time a scanner in this class has had such software included for free eliminating the need to buy middleware.
A low specification PC is all that is necessary for full speed scanning (such as an Intel Core 2 Duo, 1 GHz, 2 GB RAM machine), making the new ScanMate ideal for use in network environments like Citrix, server-client, remote desktop and so on.
Introducing new Kodak Info Input Solution
The ScanMate i1180 has been specifically designed to work with KODAK Info Input Solution which also launches today. Primarily designed for companies with multiple offices, KODAK Info Input Solution is ideal for any organisation seeking to leverage investments in existing backend ECM infrastructure, business applications or databases. It enables a standardised capture solution to be implemented. This improves internal governance across departments, enhances security, and helps drive down IT costs as control and configuration is centrally managed. KODAK Info Input Solution is perfect for organisations in highly regulated industries when compliance demands are strict.
The flexibility to scan as you like
KODAK Info Input Solution automatically captures, classifies and extracts information from paperwork offering barcode reading, point and click OCR, indexing, annotating as well as enabling drag and drop file management of electronic documents. The software can be implemented in two ways:
Batch mode. Using a client applet and server side application, KODAK Info Input delivers both a distributed and centralised scanning solution from a web-browser allowing documents to be imported into ECM and business applications along with other systems like EMC Captiva, Kofax, and IBM Filenet.
Transactional mode. With a full licence included, KODAK Info Input solution allows developers to use APIs to integrate and embed scanning functionality directly into web-based business applications such as Sales Force.com, SAP, IBM Filenet and others. For example, a 'scan button' can be added to the specific application so users don't need to swap systems when they want to scan and import a document.
KODAK Info Input is written in Java and is secure and configurable with flexible scripting capabilities. The solution offers multi language support and works with Kodak Asset Management Software to allow the remote monitoring of Kodak Alaris scanner hardware and centralised deployment of software updates.
Pricing and availability
The KODAK i1180 Scanner is available today with a list price of €995.00. It comes with a free three-year advance unit replacement warranty[2] to offer total peace of mind for those users where scanning is integral in their electronic workflows. KODAK i1180 Scanner supports a range of operating systems including Windows, Linux and Apple Macintosh. For more information about the new i1180 Scanner, please click here: http://graphics.kodak.com/DocImaging/GB/en/index.htm
KODAK Info Input Solution software has a flexible and competitive pricing and licensing structure.
[1] Source: Kollabria Research
[2] Geographical limitations apply
- ENDS -
About Kodak Alaris' Document Imaging Division
Kodak Alaris' Document Imaging solutions enable customers to capture and consolidate data from digital and paper sources, understand and extract valuable insight from the contents, and deliver the right information to the right people at the right time. Our offerings include award-winning scanners, capture and information management software, an expanding range of professional services and industry leading service and support. With customers ranging from small offices to global operations, Kodak Alaris delivers superior systems and solutions to automate business processes, enhance customer interactions and enable better business decisions.
For more information, please visit kodakalaris.com/go/dinews. Follow us on Twitter at twitter.com/kodakdi and visit our blog at infooverdrive.com/
The Kodak trademark and trade dress are used under license from Eastman Kodak Company.
Media Contact
Tom Herbst
Kodak Alaris EAMER PR lead
+44 (0)7768 145571 or +44(0)207 274 9937
tom@tomherbstpr.co.uk