The smallest scanner ever offered by Kodak with a footprint about half the size of an A4 page
London September 13, 2011 – Kodak (NYSE:EK) today announced that it is launching its latest SmartTouch scanning solution - the ScanMate i920 Personal Scanner. The smallest scanner ever offered by the company, its compact-size is ideal for SoHo and other business users requiring easy and fast high-quality scanning.
The ScanMate i920 Personal Scanner is designed for Microsoft Windows, compatible with TWAIN and ISIS scanning applications, and generates PDF, JPG, TIF and more file formats as well as MS-Word and RTF. The new colour duplex scanner features Kodak's Perfect Page image processing for automatic image quality, delivering outstanding results even on the most challenging documents, all backed by a 3 year warranty.*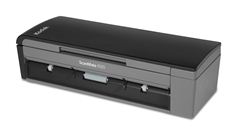 New Kodak i920 Personal Scanner
Fast SmartTouch scanning
The ScanMate i920 provides fast scanning, ease of use, and outstanding connectability. The scanning process is simplified through Kodak's unique SmartTouch feature: a scan-job can be selected by the scanner display and the GO-Button, or via the desktop.
For daily correspondence, business cards, receipts or colour brochures, the i920 scans documents at speeds of up to 20 DIN-A4 pages per minute in simplex or up to 40 images per minute in double sided mode, with a recommend daily volume of 500 pages per day.
With a very small footprint of 288 mm wide and 107 mm deep – that's about half the size of an A4 page - the ScanMate i920 fits comfortably on any desktop, and provides users with an outstanding imaging solution for efficient day-to-day scanning whenever needed. To create a digital copy of a valuable paper document is as simple as pressing a button.
Fit for your documents
ScanMate i920 includes a 20-sheet Automatic Document Feeder (ADF) for consecutive batch scanning, and supports feeding for business cards, hard cards, DIN-A4 and even long-length documents. Document formats with different sizes such as travel expenses can be scanned in mixed document batches.
Hauke Fast, EAMER Product Marketing Manager Document Imaging, Kodak's Business Solutions and Services Group, comments, "Kodak's new ScanMate i920 Personal Scanner combines a stylish design with a functional device – easy to use and combined with a worry-free 3 year Advance Unit Replacement Warranty (AUR)."
Link your documents to the cloud
The ScanMate i920 Personal Scanner provides automated office functions for scan-to-email, scan-to-SharePoint, scan-to-folder or scan to cloud applications, all at the touch of a button.
The scanner creates outstanding images with Kodak's integrated Perfect Page image processing functions including blank page detection, auto de-skew, automatic image orientation, auto colour detection, auto cropping and many, many more.
A powerful integrated document viewer for scanned images allows for the editing of images before saving. For Windows operating systems, the ScanMate i920 comes with TWAIN and ISIS drivers for built in connectivity to any professional scanning software.
Intelligent Software Functions
In addition to automatic PDF file creation, ScanMate i920 users can also generate searchable PDF files. The ScanMate i920 is also bundled with the NEWSOFT PRESTO! BIZCARD 6.0 software, for easy business card scanning and efficient organisation of card details.
With Kodak's ScanMate i920 Personal Scanner, document scanning is easy, and a part of daily life. Users also have the option of purchasing KODAK Capture Pro Software with the scanner.
Price and Availability
The ScanMate i920 is available in the EAMER distribution channel with immediate effect with 3 years AUR warranty for €395 plus VAT. To learn more about the KODAK SCANMATE i920 Scanner, visit: www.kodak.com/go/i920.
*Geographical restrictions apply
- Ends -
About Kodak
As the world's foremost imaging innovator, Kodak helps consumers, businesses, and creative professionals unleash the power of pictures and printing to enrich their lives.
To learn more, visit http://www.kodak.com and follow our blogs and more at http://www.kodak.com/go/followus.
More than 75 million people worldwide manage, share and create photo gifts online at KODAK Gallery - join today at www.kodakgallery.com
Kodak's Document Imaging business enables customers to capture and use valuable information from electronic and paper documents. Our document imaging solutions include award-winning scanners and capture software, and industry-leading service and support. From small offices to global operations, Kodak has the right solution to feed your business the information it needs.
More information about KODAK Document Imaging Scanners, Capture Software and Services is available at www.kodak.com/go/di
Contacts:
Tom Herbst PR Limited
Tom Herbst
Director
Tel: +44 (0)207 274 9937
Mob: +44 (0)7768 145571
Email: tom@tomherbstpr.co.uk