London September 23, 2011 – Kodak (NYSE:EK) today announced that it is expanding its already comprehensive document imaging portfolio by adding an innovative new product - the sceyeX - a digital document camera that "photographs" documents instead of scanning them.
This professional document camera is ideal for a growing market which needs flexible and mobile scanning solutions, where depending upon the application, taking a "picture" of a single document can actually be faster than scanning the page conventionally. Using the sceyeX, within just 2 seconds the document is captured, de-skewed, cropped and displayed on the computer screen.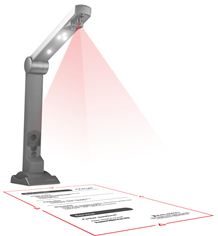 sceyeX document camera
The sceyeX is simply placed on a desk, connected via its USB cable to a computer and once opened is then ready for use. A laser projects a rectangle onto the desk surface into which documents are then placed. The device can "scan" documents from business cards up to DIN-A4, but in addition it can capture areas of oversized documents such as large technical drawings. The sceyeX is therefore ideal for single sheets, stapled pages, the contents of folders and binders and even books and magazines. Documents can be "scanned" at different resolutions from 100 to 400dpi in black & white, greyscale and colour and can be created as single or multi-page TIFFs, JPEGs etc.
In addition to the TWAIN-driver bundle, it also features sceye-Autoscan, which captures documents fully automatically. Once a document has been placed in the area under the camera, it will be read. No additional "scan" command via mouse or keyboard is needed. The sceyeX supports all current Windows platforms and Mac OS X.
A highlight of the sceyeX is the exceptional image quality and it is particularly suited for the recognition of small fonts and bar codes and comes with an integrated LED-based document illumination. It has an extremely small footprint and since the device is USB powered, it is therefore excellent for mobile use and even comes with its own carry bag. Also, unlike conventional scanners, sceyeX is maintenance-and wear-free.
Hauke Fast, EAMER Products Marketing Manager, Document Imaging, Kodak's Business Solutions and Services Group, commented, "The sceyeX is a perfect fit within Kodak's existing product range as it is ideal for accountants, auditors and others who need a truly mobile solution for capturing a wide variety of business documents quickly and efficiently."
The portable sceyeX document camera is available from Kodak distribution partners, and costs, including software, carrying case and three years warranty is only €799 plus VAT.
More information is available on the product web site at www.kodak.com/go/sceye
The sceyeX is backed by Kodak Service and Support – an organisation made up of more than 3,000 professionals in more than 120 countries. The largest and best trained service organisation in the world, Kodak Service and Support is a leading multi-vendor integrated services provider, delivering consulting, installation, maintenance and support services for the commercial printing, graphic communications, document imaging and data storage industries. Kodak Service and Support professionals are uniquely qualified to provide services that control costs, maximise productivity, and minimise business risk.
For further information, please visit the web at www.kodak.com/go/docimaging
To download a video on sceye, please click on the link below:
http://www.lires.de/sceye_oms/downloads/5reasons4sceye_en_960.m4v
- Ends -
About Kodak
As the world's foremost imaging innovator, Kodak helps consumers, businesses, and creative professionals unleash the power of pictures and printing to enrich their lives.
To learn more, visit http://www.kodak.com and follow our blogs and more at http://www.kodak.com/go/followus.
More than 75 million people worldwide manage, share and create photo gifts online at KODAK Gallery - join today at www.kodakgallery.com
Kodak's Document Imaging business enables customers to capture and use valuable information from electronic and paper documents. Our document imaging solutions include award-winning scanners and capture software, and industry-leading service and support. From small offices to global operations, Kodak has the right solution to feed your business the information it needs.
More information about KODAK Document Imaging Scanners, Capture Software and Services is available at www.kodak.com/go/di
Contacts:
Tom Herbst PR Limited
Tom Herbst
Director
Tel: +44 (0)207 274 9937
Mob: +44 (0)7768 145571
Email: tom@tomherbstpr.co.uk