LAS VEGAS (Interchange) – 21 January 2013 – LANDesk Software today announced the availability of client management capabilities for the recently introduced HP ElitePad tablet. LANDesk is enabling the ElitePad through Management Suite 9.5 and the Cloud Services Appliance.
The HP ElitePad stands out from other tablet devices because it provides users with both the robust power of a PC and the ultra-portability of a tablet in a single, enterprise-ready device. By offering the option to run on the Windows 8 operating system, the ElitePad also addresses the consumer-like functionality that employees have come to prefer for both personal and enterprise computing. Due to these increased capabilities, the ElitePad requires the management needs of both a PC and a tablet. Management tasks that are straightforward for a PC can be difficult, limited or impossible for a typical tablet device. What's more, IT organisations must take into account tablet-specific management and security challenges, such as finding lost devices, securing corporate data when devices are lost or stolen and dealing with SIM cards, mobile apps and more. LANDesk and HP have partnered to provide a solution for these challenges that allows users to take advantage of the powerful capabilities and flexibility that the ElitePad offers, without causing IT organisations the additional pain and overhead of yet another management tool to master.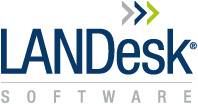 LANDesk logo
"We're excited to continue our extensive partnership with HP and to further enable IT organisations to manage enterprise devices with increasingly consumer-like capabilities," said Steve Daly, CEO, LANDesk. "With the ElitePad, end-users are provided with the functionality of two devices in one and IT can rest assured that they have full management capabilities. Thus, end-users are given the computing freedom they desire, while IT is able to maintain control."
LANDesk can help organisations manage and maintain the HP ElitePad and derive even more value in putting the HP ElitePad to work in the following ways:
Client Management for the ElitePad - Remotely manage BIOS, drivers, configuration and monitor HP hardware alerts

Find My ElitePad - Quickly locate lost or stolen ElitePad by increasing GPS polling interval to closely track device location

Protect Corporate and Personal Data - ElitePad Remote data protection enables you to remotely lock or reset the device to remove data

Mass Activation of WWAN cards - Capture ElitePad SIM data, and streamline inventory and activation of WWAN cards
LANDesk® Management Suite 9.5 and the LANDesk® Cloud Services Appliance are available now. IT professionals looking to learn more about how LANDesk Management Suite 9.5 will deliver the best in manageability for the HP ElitePad, as well as other PC, Mac and mobile devices should contact a LANDesk sales representative or visit http://www.landesk.com/contact/.
About LANDesk Software
LANDesk Software is the industry's leading provider of IT end user management, including integrated systems and asset management, endpoint security, virtualisation management, end-to-end mobility, and user-oriented IT service management solutions. LANDesk provides an adaptive IT delivery model to help IT organisations increase end-user productivity. LANDesk is headquartered in Salt Lake City, Utah, with offices located in the Americas, Europe and Asia Pacific, and can be found at www.landesk.com.
###
Press contacts
Keira Anderson
Account Manager
Tel: +44 207 853 2289
Email: Keira.Anderson@porternovelli.com
Susan McGuire
LANDesk Software
Tel: +44 1483 744278
Email: susan.mcguire@landesk.com