Patented Innovations in LANDesk Management Suite and Security Suite enable IT to Maximise User Productivity while Reducing Cost, Complexity and Risk
LONDON - Oct 23, 2012 - LANDesk Software, a global leader in integrated systems and asset management, endpoint security, end-to-end mobility, virtualisation management and user-oriented IT service management, today announced version 9.5 of its Management Suite and Security Suite products. Significant upgrades have been incorporated into both suites, including enhanced cross platform support, innovative software license management and virtualisation management. These changes will further enable LANDesk's vast ecosystem of customers and partners to gain better control of their endpoints and in turn, further maximise user productivity in a secure manner.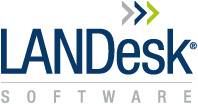 LANDesk logo
With Gartner stating that the Bring Your Own Device (BYOD) phenomenon is "the most radical shift in the economics of client computing for business since PCs invaded the workplace," IT administrators need to change the way they manage devices. LANDesk is enabling this shift with cross-platform support offered by the 9.5 product families. These features mean IT administrators can manage any number of devices a user brings into the corporate environment, from tablets to iPhones to Windows 8 laptops. These multiple platforms across multiple users can now be managed anytime, anywhere.
In addition to more extensive platform support, further upgrades to the 9.5 product families include enhanced software license management features. These features provide the capability to automatically discover software; group software to create licensable units; reconcile license usage; and track software usage. Management Suite 9.5 also provides IT administrators with the capability to monitor software usage in a virtual desktop interface (VDI) environment. These enhancements give IT the tools they need to be compliant and audit ready, along with saving on costs.
"Management Suite and Security Suite 9.5 were created in order to help solve the pain points we heard our customers voicing," said Steve Workman, vice president of product management, LANDesk Software. "With these products, our current and prospective customers now have the tools they need to maximise user productivity in a secure and cost-effective way. This will become increasingly important as BYOD invades the workplace and security threats continue to proliferate on a daily basis."
LANDesk is also further enabling its current and prospective customers through continued collaboration with a number of major hardware providers. With dozens of hardware choices and hundreds of software programs on the market today, figuring out which software solutions make the most sense across a vast hardware environment can be a daunting task for IT administrators. In order to make this task easier and reduce complexity across the enterprise environment, LANDesk has embarked on joint ventures with HP, Intel and Lenovo.
HP's custom innovation is evident with 9.5's ability to automatically collect information from across the entire enterprise of devices and store this business-relative information in a database. This information includes power consumption per device, the health of notebook batteries and the activation status for mobile broadband cards: all of which can be viewed with custom tailored HP reports.
9.5 also includes zero touch provisioning via the LANDesk console and Intel's host-based provisioning for vPro enablement. A simplified system defence policy enables remote control of a machine from the network as a right-click function within the LANDesk menu, all the while maintaining Intel vPro access.
9.5 customers can also more easily manage Lenovo devices fleet-wide. With this release, Lenovo and LANDesk created access connections that enable IT administrators to graphically and securely manage and switch network connections between Ethernet, wireless LAN, and wireless WAN. In addition, Lenovo Power Manager enables monitoring of electricity consumption and enhanced rescue and recovery features allow administrators to deploy updates, recover from crashes and provide remote access if a system will not boot or if it fails to function when booted.
Additional Features in Management Suite 9.5
Virtualisation Management: With the release of 9.5, LANDesk customers can manage both physical and virtual desktops from a single console. For virtual desktops, LANDesk embraces both persistent and non-persistent scenarios and enables easy deployment of the management agent.

Application Virtualisation: 9.5 also broadens LANDesk's application virtualisation support. This solution provides agnostic support of application virtualisation packaging, regardless of vendor (Microsoft App-V or other standard application virtualisation packages), allowing customers to take advantage of industry standard technologies without complexity or hassle.

Full cross-platform support (Windows, MAC, iOS, Android, Unix/Linux). New Operating Systems added include:

Windows Embedded Standard 7 Enterprise

Windows Embedded Standard 09 Enterprise

Retail Point of Sale 7

Retail Point of Sale 09

HP ThinPro

CentOS 6 32/64-bit

RHEL 6 32/64-bit

SLES 11 32/64-bit

SmartVue Dashboards: This tablet application provides a global view of the Management Suite/Security Suite environment. This application allows administrators and directors to use the data to plan capacity and justify value in a conversational setting.

Profile Migration for Provisioning: Management Suite 9.5 introduces actions in provisioning that simplify the capture and deployment of the user migration across physical and virtual environments.

IT Productivity Tools: HTML5 Remote Control allows administrators to deliver secure, high-performance remote desktop sharing over the web by taking advantage of the latest web technologies. This is the industry's first HTML5 remote control client that requires absolutely no plugins and is faster than any Java remote control client. Windows and Mac machines can be accessed from any HTML5-capable device. LANDesk has also made improvements to the Console Inspector, which contains 15 specific inspectors for console items, improving speed/performance of important console tasks for administrators. In addition, implementing third-party tools to systems management solution sets increases deployment time and cost.

Power Manager: Power management now allows clients to auto-update power usage policies if core server and client policies are not the same. New policies are now wrapped as patch content and included with a client update.

UEFI Support: 9.5 includes the latest version of WINPE, 64-bit WINPE support, and PXE booting capabilities.

Native Support for App-V: 9.5 introduces the deployment of App-V packages.

Wake-on-WAN: Management Suite 9.5 features the ability for a peer on the subnet to be elected to "Wake-Up" the machines by sending "Magic Packets" on the local subnet. This allows for WOW to function even when the network is configured to not forward broadcast packets.
Additional Features in Security Suite 9.5
Patch Management Autofix by Scope: The 9.5 release of Patch Management features Auto-Fix by Scope that includes granular control of install policies.

Core Auditing: Security Suite 9.5 allows auditing administrators to determine what functions need to be audited. Auditing information is stored separately from the LANDesk data, and can be sent to the event log as well. Auditing can also be queried and information can be archived and restored as needed.

Credant Integration (Encryption Status): Administrators can open the LANDesk console and can determine what devices are encrypted from within the LANDesk Inventory. Administrators can run a report of protected and/or unprotected devices.

Kaspersky Lab Standard Endpoint Agent 8.0: Security Suite 9.5 will include the Kaspersky Lab Version 8 Standard Client.
Availability
LANDesk Management Suite and Security Suite 9.5 will be available for purchase on Oct. 31, 2012. Customers can inquire about industry-leading pricing information from a LANDesk representative.
About LANDesk Software
LANDesk Software is the industry's leading provider of IT end user management, including integrated systems and asset management, endpoint security, virtualisation management, end-to-end mobility, and user-oriented IT service management solutions. LANDesk provides an adaptive IT delivery model to help IT organisations increase end-user productivity. LANDesk is headquartered in Salt Lake City, Utah, with offices located in the Americas, Europe and Asia Pacific, and can be found at http://www.landesk.com/.
Press contacts
Keira Anderson
Account Manager
Tel: +44 207 853 2289
Email: Keira.Anderson@porternovelli.com
Susan McGuire
LANDesk Software
Tel: +44 1483 744278
Email: susan.mcguire@landesk.com