LANDesk Delivers Total User Management; Designed to Manage, Secure and Support End-Users in Today's Highly Mobile IT Environment
LAS VEGAS (Interchange) – 22 January 2013 – Advancing its position as an innovator and leader in user-oriented management, LANDesk Software today announced the release of Total User Management. LANDesk is taking the lead in helping IT reorient to the new reality; the modern IT environment requires a model that allows the user to manage the totality of their computing needs versus merely managing devices. Total User Management, a powerful and comprehensive selection of key LANDesk IT management technologies, is LANDesk's response to the evolving challenges inherent in the modern IT environment. Mobility and the proliferation of devices have reshaped the relationship between end-users and their work. A new generation of self-reliant users has emerged with an "always on" and "work anywhere" mindset, using multiple devices in their efforts.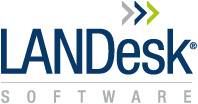 LANDesk logo
"Several years ago we saw that the dynamics of the mobile workforce and its associated work styles were going to force changes in the IT management model," said Steve Workman, vice president of product management, LANDesk Software. "Total User Management is the culmination of LANDesk's acquisition and development strategy to establish our focus right where it needs to be; on the user's productivity. Additionally, this focus and commitment brings about real advantages for IT in delivering freedom to the users, while giving IT greater control."
Total User Management brings together key LANDesk management tools as a single solution, free from per-product licensing and per-connector or per-device add-on fees. Instead, Total User Management is licensed per user and is deployable on an as-needed basis in a user-centric, employee-focused management model. Total User Management combines LANDesk's Secure User Management Suite (released in October 2012) with the capabilities of LANDesk's ITIL-aligned Service Desk and the LANDesk Asset Lifecycle Management system. A more detailed listing of Total User Management features is as follows:
Secure User Management:

Management Suite

Security Suite

Mobility Manager

Data Analytics and Reporting

LANDesk SmartVue

Process Manager

Asset Lifecycle Management

Enterprise Application Connectors

ITIL Aligned Service Desk with:

Service catalog

Verified on15 ITIL Processes (PINKVerify 3.1)

Process and Policy Automation

No coding required

Premise and Cloud Delivery

"Single Pane of Glass" functionality
LANDesk Total User Management features the lowest TCO in the industry and will future-proof many IT client management needs while relieving, through its commitment to user-based pricing, already strained IT Operations budgets. All of these products will continue to be available as point purchases, providing choice, flexibility and control for the customer.
All of the products identified as part of the Total User Management approach are now available and priced per user. For IT professionals looking to learn more about how LANDesk Total User Management can help you deliver user-oriented IT management, contact your LANDesk sales representative or via the web – http://www.landesk.com/total-user-management-suite/.
About LANDesk Software
LANDesk Software is the industry's leading provider of IT end user management, including integrated systems and asset management, endpoint security, virtualisation management, end-to-end mobility, and user-oriented IT service management solutions. LANDesk provides an adaptive IT delivery model to help IT organisations increase end-user productivity. LANDesk is headquartered in Salt Lake City, Utah, with offices located in the Americas, Europe and Asia Pacific, and can be found at http://www.landesk.com/.
###
Press contacts
Keira Anderson
Account Manager
Tel: +44 207 853 2289
Email: Keira.Anderson@porternovelli.com
Susan McGuire
LANDesk Software
Tel: +44 1483 744278
Email: susan.mcguire@landesk.com