British accessible luxury brand L.K.Bennett have swept up gold at this year's Golden Globes parties with the prominent positioning of their distinctive new Alexia Clutch Bag on the red carpet .
Dazzling, sleek and effortlessly modern, the Alexia is a must-have clutch bag. Boasting unique tubular proportions, the structured roll clutch is covered in elegant gloss patent leather and is completed by statement gold Tudor Rose detailing on either end.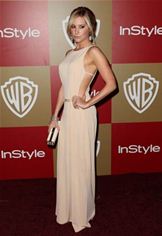 Ashley Tisdale
Celebrity fans including Ashley Tisdale, Olga Kurylenko and Olivia Munn illustrate how to wear the chic Off-white clutch perfectly; whether coordinating with matching shoes, a glamorous evening dress or sharp tailoring.
The Alexia clutch (£225) is available in a full range of 4 colours (Black, Off-White, Taupe and Sky Blue) at L.K.Bennett stores and www.lkbennett.com as part of their Spring / Summer 2013 Collection.
For more information please contact Megan Hart at Propellernet
Megan@propellernet.co.uk / 01273 760976
Company information
L.K.Bennett is an international, accessible luxury brand that reflects its unmistakable British heritage; a modern blend of femininity, colour and style. Our collections of shoes, ready-to-wear, handbags and accessories, appeal to women who want a wardrobe perfect for any occasion. Founded by Linda Bennett in London in 1990, L.K.Bennett has since established itself as a leading British fashion brand, offering sophisticated collections of shoes, clothing, handbags and accessories to meet the lifestyle of every woman.
Originally renowned for signature shoe collections favoured by celebrities and stylish women alike, L.K.Bennett rapidly became the ultimate destination for feminine footwear, leading to the introduction of women's wear collections in 1998.
Ten years later, L.K.Bennett embarked upon a significant step in the expansion strategy when Robert Bensoussan, co-founder of Sirius Equity, together with Phoenix Equity Partners, invested in the brand as majority shareholders to support the continued growth of the company.
The brand vision has evolved to ensure that fashion product is the key driver of the company. The over 135 strong retail stores now form part of a design-driven international label with a luxury twist. The distinctive handwriting stays strong with a dedicated in-house design team creating looks that appeal to our expanding customer base.