Lichtenau, Germany – The frequency regulatory authority of the United States, the Federal Communications Commission (FCC) has authorized LS telcom to operate a TV bands database system to provide services to the public. The system will support FCC approved radio devices to transmit on unoccupied channels in the spectrum bands normally used by broadcast television, so called TV white spaces.
The radio devices are required to provide their geographic location to the database by means of an Internet connection. The system will return a list of the channels available for operation by the device for its reported location and a given period of time.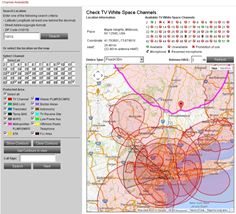 LS telcom white space database
Operators of MVPD (multichannel video programming distributors) receive site, LP-AUX (wireless microphone) users, and operators of temporary fixed broadcast auxiliary services (BAS) can register their sites with the database to receive protection from TV bands devices as specified by the FCC.
The LS telcom TV whitespace database system synchronizes with the four other authorized TV whitespace systems. Prior to receiving the full approval from the FCC, the LS telcom database underwent a rigorous forty-five-day real world testing period and specific interconnection testing.
Dr. Georg Schöne, CTO and member of the board at LS telcom, said, "LS telcom has been in the spectrum management business for over twenty years. It is only natural for us to invest in white space management and dynamic spectrum access solutions. The approval of our TV bands database system by FCC legitimizes our effort and know-how in the area."
Ends
To view the LS telcom TV whitespace system: https://www.whitespaceforus.com/
More about LS telcom's expertise in dynamic spectrum access
LS telcom is at the forefront of dynamic spectrum access (DSA) issues worldwide. The US TV whitespace database system is the first national spectrum policy implemented for dynamic spectrum access in the TV bands. Dynamic spectrum access represents a complimentary spectrum management approach to those used for many years, and LS telcom's commitment to developing dynamic spectrum allocation databases such as the FCC authorized TVWS database is an example of how DSA is becoming a reality for spectrum allocation.
The LS telcom white space solution
The LS telcom white space management solution consists of the database containing assignments, registration and authorization, and the spectrum license database, including the spectrum license data of incumbent users and protected spectrum. The system is based on over twenty years of radio spectrum software, system and database development, and includes the feedback and input of regulatory authorities in over 90 countries worldwide.
For more information
http://www.fcc.gov/document/lstelcom-ag-granted-approval-database
About LS telcom
LS telcom's software, system solutions and services address the efficient use of radio frequency spectrum and the optimal operation of radio communication services.
We are a worldwide market leader in the provision of automated spectrum management systems and their integration with monitoring systems. We also have our own monitoring system, including fixed, portable and airborne sensors. At the same time, we develop and market software for the design, planning and optimisation of broadcast, PMR, mobile and microwave networks. Strategic consulting, radio engineering services and training on network technologies, standards, and regulations as well as transmitter installations and measurements complete our area of expertise.
Frequency regulatory authorities, ministries, network operators and infrastructure providers, system integrators and military organisations in over 90 countries across all continents rely on our solutions and services.
LS telcom operates worldwide with subsidiaries and affiliates in Canada, China, France, South Africa, UAE, UK and USA, as well as representative offices in Argentina, Hungary and Oman. With its headquarters in Lichtenau, Baden, Germany, LS telcom is listed on the German stock exchange under ISIN DE 0005754402 since 2001. www.LStelcom.com
Contact:
LS telcom
Christiane Labitzke
Marketing & Communications Manager
Email: clabitzke@lstelcom.com
Tel: +49 (0)7227 95 35 296 (Germany)
Tel: + 33 (0)1 39 26 85 85 (France)
www.LStelcom.com
Americas
Radiosoft
Peter Moncure
CEO
Email: pmoncure@radiosoft.com
Tel: +1 888 723 4695-238
www.radiosoft.com