Vivid Games is bringing the most exhilarating, no holds barred boxing experience to Steam.
London, 03.07.2014: Vivid Games has announced today that Real Boxing™ – the award-winning and critically-acclaimed boxing title – has been released on the digital distribution platform Steam, letting millions of boxing-hungry PC-gamers enter the ring.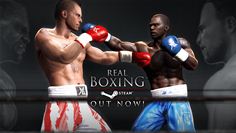 Promo Image
Real Boxing allows players to create their own boxer and train him via different mini-games to compete in a comprehensive career mode. With three belt titles to conquer over the course of 30 challenging battles, players will face more than 20 unique opponents with an adaptive fighting style – all this making bouts ripe with excitement, whether played on a keyboard or a controller.
Offering a deep and satisfying multiplayer mode, Real Boxing provides hundreds of hours more gameplay. Players from all over the globe can compete with each other in real-time, climbing the Steam Leaderboards to become World Champion, or duke it out with friends locally on a single screen in their own prizefight.
Real Boxing harnesses the power of the Unreal Engine to deliver an impressive audio-visual experience. The immersive on-the-ring atmosphere and motion-captured animations from real boxers will make you feel every hook, jab and uppercut.
Rising through the ranks, players will unlock new equipment, customized clothing, hairstyles, tattoos and more, as well as Steam exclusive content including Steam Achievements and Ring Girl Trading Cards.
To celebrate the game's release, Vivid Games will be launching a month-long Real Boxing tournament on Steam starting today. Players will have the chance to win Real Boxing merchandise, high-quality gamepads and more for placing high on the game's Steam Leaderboard.
Real Boxing can be purchased on Steam for $9.99 / €8.99 / £6.99, with a 20% discount available all throughout the launch week. For more information regarding the game visit the game's official website: www.realboxinggame.com
Watch the launch trailer: https://www.youtube.com/watch?v=gmktzvuIakY
Download the trailer in high quality: http://bit.ly/1vAdVd0
Download the game: http://store.steampowered.com/app/296770/
Screenshots: http://bit.ly/1mb5VOn
***ENDS***
About Vivid Games
Vivid Games is one of Europe's premier emerging independent development studios, with a passion for accessible and engaging gaming at the heart of its philosophy. Founded in 2006, Vivid Games is making a valuable contribution to the worldwide games development community. Vivid Games has become renowned for its specialization in cross-platform development, working both with licensed brands and exciting new IPs of its own. www.vividgames.com
Media Contact
For more information please contact:
Marcin Lukaszewski – marcin.lukaszewski@vividgames.com
Marta Wachowiak – marta.wachowiak@vividgames.com