New research by industry-leading think tank reveals that most organizations cannot ensure protection and access for critical long-term digital information despite accelerating legal and business requirements
IGI Industry Benchmark calls for immediate action & provides insight and guidance to help organizations achieve compliance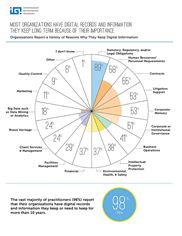 IGI Preservica Benchmark Report Infographic
New research has revealed that the majority of organizations do not have a coherent long-term strategy for their vital digital information even though virtually all of them (98%) are required to keep information for ten years or longer. Further, while 97% of information professionals understand the need for a specialized approach to these assets, only 11% are storing them in systems specifically designed to ensure long-term protection and access. This gap has economic, legal, and business competitiveness implications.
The research, conducted by think tank the Information Governance Initiative (IGI) with support from Preservica, provides a new benchmark for organizations to evaluate their capability and outlines tactics for closing this critical gap. It also reports on how leading organizations like Associated Press, HSBC, and the State of Texas have addressed this challenge.
The Governance of Long-Term Digital Information: IGI 2016 Benchmark also reveals that information management professionals charged with addressing this problem are highly aware (97%) of the unique challenge of opening, using, and relying upon digital files over the long-term. Namely, that accelerating innovation and technology refresh rates mean that software and hardware can be obsolete, making the information unusable, long before an organization's legal need or business requirement to keep and use that information expires.
However, most organizations appear to lack a coherent strategy to solve this problem. An alarming majority of organizations (68%), for example, rely on shared network drives to store these assets, a technology that offers no inherent capabilities to protect or ensure access over the long-term.
"Every day it becomes easier and cheaper to store digital information," said Barclay T. Blair, executive director and founder of IGI. "But every day we also see an intensification of global legal and business obligations to protect and provide long-term access to these critical assets. Our Benchmark shows that virtually every organization large and small across industry verticals faces this problem, but awareness of how to solve it is low. This concerns us."
"It is great to see forward-thinking organizations in this report, such as HSBC, Texas State Archives and the Associated Press, leading the way in adopting digital preservation as a core facet of their information governance strategies," commented Jon Tilbury, CEO at Preservica. "However, this research tells us that most organizations are still at significant risk when it comes to safeguarding their vital long-term digital information."
Preservica's support has enabled the IGI to make the full Benchmark available for immediate download at no cost. It is available now at: www.preservica.com/resource/long-term-records-preservation
The IGI and Preservica are running an online event to discuss the key findings of the Benchmark on the 8th of June 2016 at 11am EST, 4pm UK.
The IGI is supported by a number of leading information governance providers, and aims to promote the adoption of information governance strategies in the protection of corporate data. Preservica's partnership with the IGI demonstrates the growing importance of digital preservation in the overall information governance lifecycle, ensuring that data is findable, useable and trustworthy long into the future.
About the IGI:
The Information Governance Initiative (IGI) is a think tank and community dedicated to advancing the adoption of Information Governance (IG) practices and technologies through research, events, advocacy and peer-to-peer networking. We are dedicated to the professionalization of IG and have called for the creation of a new kind of information leader called the Chief Information Governance Officer. The IGI Community is where thousands of practitioners from cybersecurity, IT, analytics, privacy, legal, records management, and the other facets of IG come together and learn from each other. The IGI was founded by recognized leaders in the field of IG, and is supported by leading providers of IG products and services.
About Preservica
Preservica is a world leader in digital preservation technology, consulting and research. Our active preservation solutions are used by leading businesses, archives, libraries, museums and government organizations globally, to safeguard and share valuable digital content, collections and electronic records, for decades to come. These include 17 US State Archives, the European Commission, Wellcome Library and HSBC, to name a few.
Preservica's award-winning digital preservation and access software is a complete, standards-based (OAIS ISO 14721) trusted repository that includes connectors to leading Enterprise Content and Records Management systems to ensure long-term usability, trustworthiness and preservation of vital digital records, emails and content.

Visit: www.preservica.com
In the US: For further information, please contact: Maria Doyle, maria@doylestratcomm.com, +1-781-964-3536
In the UK: For further information, please contact: Ilona Hitel, ihitel@thecommsco.com, or mobile: 07734 355205.