...New content partnership adds scrobbling, music recommendations and customisable radio stations to German manufacturer's 'WiFi hi-fi'...
Last.fm and Raumfeld today announced their partnership to bring Last.fm's personalised music recommendation and radio services to Raumfeld's next-generation hi-fi system.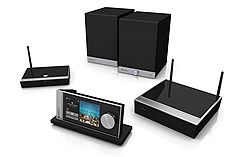 Raumfeld - Multi-Room Audio System (two-room option)
Last.fm is a music recommendations service. By keeping track of what you play (also known as scrobbling) it learns which songs and artists you prefer. Based on this data, Last.fm compiles highly customised music recommendations and individual radio stations.
Raumfeld pools all of your digital music (be it on Mac, PC or NAS drive) and streams it around your house to studio-quality, WiFi-enabled speakers. With this new software upgrade, Last.fm becomes part of Raumfeld's multi-room audio experience enabling customers to enjoy endless musical expeditions from their sofa.
"Working with Raumfeld gives Last.fm a great opportunity to provide users with a powerful and engaging personalized radio experience powered by Last.fm's recommendations in a next generation hi-fi device," said Fred McIntyre, Vice President of Product for Last.fm and CBS Interactive Music Group, "the Raumfeld multi-room system has impressive usability and sound quality, and it provides an ideal environment for the functionality and fun that Last.fm's millions of users expect."
The Last.fm app on the Raumfeld Controller also 'scrobbles' every track played, helping Last.fm to continuously refine its personal music recommendations.
"Both Raumfeld and Last.fm share the same goal," comments Stephan Schulz, founder and CEO of Raumfeld, "that is helping our customers to rediscover their passion for music. It's no coincidence that the both of us have made continuous improvement the integral part of our business. Our partnership is a perfect symbiosis of innovative technology and intelligent content, which together form the future of hi-fi systems."
Other improvements in Raumfeld's latest software upgrade include playlist management, filing classical music by composer tag and enhanced third party UPnP/AV compatibility.
Pricing and Availability
Each Raumfeld customer will receive 30 days full access to Last.fm music streaming for free (after which an affordable monthly subscription is required). Whether using the paid or standard option, all Raumfeld users can scrobble to their Last.fm account and access artist bios and genre descriptions. Raumfeld products are available exclusively at its online store located at http://en.raumfeld.com/shop.
Last.fm services are available on Raumfeld systems in Germany and the UK.
About Raumfeld
Established in 2008, Raumfeld develops and sells WiFi-based, multi-room audio systems. Its innovative hardware and software enables listeners to experience their music from digital and analogue sources in several rooms simultaneously. Designed and engineered in Berlin, Raumfeld's focus is on usability and sound quality, and it partners with businesses from the pro studio sector such ADAM Professional Audio. Raumfeld products are available exclusively at its online store.
For more information, please visit www.raumfeld.com or watch the demo video on YouTube at www.youtube.com/watch?v=bJW01sa6gy0.
About Last.fm
Founded in 2002, Last.fm is CBS Corporation's (NYSE: CBS.A and CBS) global music discovery service. Last.fm intelligently recommends users new music, personalised radio, concerts, and connects music lovers from around the globe. Last.fm's unique 'scrobbling' technology lets users keep a record of what they listen to from over 600 music players. Last.fm harnesses 40+ billion pieces of music taste information to recommend music to more than 40 million users across 12 languages in more than 200 countries. Learn more at: www.last.fm
Ian Peel
Let It Beep Ltd.
email: ian@letitbeep.com
phone: 07775 937494
web: www.letitbeep.com