Enroll for this free 3-month Skillshare trial
London, UK, 16th December 2016 - Join olloclip Ambassador and photography legend Chris Burkard in our new Skillshare class. Get all the tips and tricks you need to make the most of mobile photography.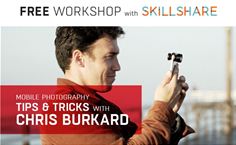 Chris Burkard
You'll follow Chris as he shares stories from his travels across the globe and tips to help you make the most of your iPhone and olloclip lenses. Whether you're a serious photographer or a casual Instagrammer, this class will help you take and edit more beautiful and memorable shots.
Enroll for free with this free 3-month Skillshare trial. http://skl.sh/olloclip
Enroll and submit a photo in the class for a chance to win an awesome olloclip prize pack.
[ENDS]
About olloclip
The olloclip® brand is synonymous with creativity in one's pocket. With olloclip products, amateur and professional photographers alike can capture and share life experiences, more easily, spontaneously and artistically than ever before. A person's mobile phone becomes a window to the world—and mobile photography and videography enter a whole new realm of possibility. For more information, visit olloclip.com.
###
Media Contact:
Rand Al Qasimi
Zaboura
02035 880804
rand@zaboura.com