Searchmetrics the search and content marketing leader is hosting a one day conference and networking event on May 9, 2018 at Tobacco Dock, London
London – March 14, 2018 – Top digital marketing influencers, including speakers from Barclays, Trainline, TSB Bank and a number of leading agencies, will come together to share their successful search and content marketing strategies at the Searchmetrics Summit 2018, a one day conference and networking event hosted in London by Searchmetrics, the leader in search and content optimisation.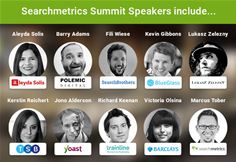 Speakers at Searchmetrics Summit in London
The event is aimed at marketing professionals who want to keep up to date with the latest ideas in search and content marketing. Speakers will be covering many of today's most pressing online marketing issues, including content optimisation strategies for mobile, voice search and virtual reality, advice on making the most of Google's fast loading Accelerated Mobile Pages (AMP) and the freshest insights about Google ranking factors.
The full line-up of speakers and topics is:
Aleyda Solis, International SEO Consultant, speaker, blogger and author: AMP – The good, the bad, the ugly and how to make the most out of it
Kevin Gibbons, co-founder and CEO of BlueGlass digital marketing agency with clients such as Deloitte, Expedia and the Financial Times: SEO is so 2017! Optimising for everything, not just search engines
Victoria Olsina, Search and Acquisition Manager at Barclays: Managing Website Migration: the complexity of implementing change within a big organisation
Kerstin Reichert, SEO Team Lead at TSB Bank: Great content is a team effort: How to grow your reach with multi-channel marketing
Barry Adams, independent SEO consultant and blogger specialising in technical SEO for ecommerce and news publishers: Structured Data That Drives Results
Lukasz Zelezny, director of organic performance at ZPG, with clients such as uSwitch.com, Zoopla.co.uk and PrimeLocation.com: Organic Search and Content optimization in 2018 and beyond - how to win the game
Richard Keenan-Heard, SEO and Content lead at Trainline: Scaling global content that is mobile and voice first
Fili Wiese, technical SEO expert, ex-Google engineer and ex-senior technical lead in Google's Search Quality team: Page Speed Optimization Tips
Marcus Tober, CTO and Founder of Searchmetrics: It's a small world after all: Entering the world of the micro-niche and micro-Ranking Factors
The speaker sessions will be followed by a panel discussion featuring a selection of the speakers together with Jono Alderson, Digital Strategist, Marketing Technologist and Mad Scientist at Yoast. The day concludes with a networking party at the Tobacco Skybar.
Daniel Furch, Director Marketing EMEA, said, "Things move so fast in our industry, it's essential to take time out to stay on top of all the changes and to keep learning. Our Searchmetrics Summit events help you do this by providing an excellent opportunity to find out about the latest ideas and strategies that are making a difference in the world of search and content marketing. Our aim is to give you a stimulating day with a mix of formal presentations and plenty of time to network and catch-up with your peers."
The event venue is the Tobacco Dock, The Dock, Tobacco Quay, Wapping Lane, London E1W 2SF. For more information and to register go to: https://www.searchmetrics.com/news-and-events/summit-london18/
Attendees at the Searchmetrics Summit 2018 London can also sign up for a SEO Site Clinic or in a Content Audit with a senior consultant from Searchmetrics: https://www.searchmetrics.com/seo-content-clinic/
About Searchmetrics
We are your pathfinder to content that uniquely matches user intent with the deep learning insights of the Searchmetrics Suite™ and Searchmetrics Content Experience platforms. Search has evolved into a data-driven field that requires powerful tools to guide companies through discovery, optimization and measurement of engaging storytelling.
There's only one search and content development platform that owns its data: Searchmetrics, the world's #1 SEO and content performance platform. We don't rely on data from third parties. Our historical database spans five years and contains over 250 billion pieces of information, such as keyword rankings, search terms, social links and backlinks. It includes global, mobile and local data covering organic and paid search, as well as social media. We have the largest global reach of any search platform, crawling the web every day in more than 130 countries.
Searchmetrics monitors and reveals the full business available to you online. We provide our customers with a competitive advantage and help them to identify new business opportunities by exposing the content consumers are engaging with on industry and competitors' sites. Our SEO Visibility Score − trusted by reputable media sources such as The New York Times, Bloomberg and The Guardian − reliably indicates your online presence.
We provide the insights our customers need to deliver results. Searchmetrics guides SEOs and content marketers with suggestions for creating content that improves relevance and boosts conversions. It shows the connection between social media links and overall engagement. And its analytics make clear which content performs the best and how an organization's content performs against its competitors'.
With Marcus Tober, one of the top 10 SEO minds in the world, leading Searchmetrics' product development, we have over 100,000 users worldwide, many of whom are respected brands such as T-Mobile, eBay and Siemens. They all depend on Searchmetrics and our 12 years of product innovation to maximize their online performance.
More information: www.searchmetrics.com.
Media Contact
Uday Radia
CloudNine PR Agency
uradia@cloudninepr.com
+44 (0)7940 584161