New dynamic reporting interface uses the cloud to bring software asset management out into the wider organisation
York, England, 26 November 2012: License Dashboard, the leading developer of advanced license management solutions, today announced the launch of Cloud Console, a new cloud-based dynamic reporting interface for License Manager, its flagship software asset management (SAM) tool. Available immediately as an optional add-on to License Manager, Cloud Console provides anyone who needs it with access to the same rich reconciliation reports of the desktop application from anywhere with a web browser, allowing authorized users to monitor and optimise license procurement and deployment.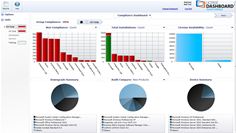 Dashboard
License Dashboard Cloud Console opens the extensive reporting capabilities of License Manager to stakeholders right across the organisation, from finance managers and compliance officers, to network administrators, help desk managers and managing directors/CEOs. Anyone who needs to understand the cost, availability or deployment of licenses can now get instant answers to their questions. As well as stakeholders inside the organisation, Cloud Console is ideal for businesses with outsourced IT operations, where more than one party needs to monitor and manage the deployment and allocation of software licenses.
"With most organisations over-spending on software by at least 20% a year[1], and 65% of organisations expecting to be audited by a software vendor within a one year timescale[2], the implications of software license mismanagement extend far beyond the IT department," states Matt Fisher, business development director at License Dashboard. "The cloud enables us to extend the benefits of software asset management outside of IT and out into the rest of the organisation. With Cloud Console, finance managers, network administrators and even managing directors/CEOs can now immediately review the organisation's software compliance and/or over-spend situation at any given time."
Cloud Console is a self-service web-based management reporting module that allows authorized users to view critical information such as:
At-a-glance Dashboards for compliance, renewals, deployments and shortfalls

Management Reports on vendor compliance, financial risks and expenditure

Detailed reports on license and software inventories, software usage and more
Cloud Console is ideal for users that need to access important information but who do not need the full desktop client installed on their PC. A simple but powerful web interface provides on-demand access to all the latest information about the organization's software, licensing and compliance status.

"The Cloud Console adds a much requested feature to License Manager – the ability to access License Manager's sophisticated reconciliation reports from anywhere. Most of our customers have software deployed across multiple sites and countries, so it is very rare for their day job to be limited to one site. By having access to reports on compliance, software deployments, licencing shortfalls etc. from anywhere, our customers now have all the information they need when speaking to stakeholders across the business about their organisation's software use," comments Fisher.
"As the first step in our strategy of bringing software asset management to the cloud, the Cloud Console is a significant milestone in our product development and reflects our continued agility at bringing new products to market based on the specific demands of our customers and partners," concludes Fisher.
To learn more about Cloud Console, including a video demonstration, visit http://www.licensedashboard.com/license-management-software/cloud-console.html
[1] License Dashboard, License Management, http://www.licensedashboard.com/license-management-solutions/license-management.html
[2] Gartner, The Software Vendors That Are Auditing Now and What to Do About It, 27 January 2012 http://www.gartner.com/id=1906816
ENDS
Product screenshots:
Additional Resources
About License Dashboard
License Dashboard develops solutions designed to help organizations of all sizes reduce the costs and risks associated with software management across the corporate network. License Dashboard solutions are sold and supported through a global network of accredited resellers. License Dashboard is a wholly-owned subsidiary of the Blenheim Group, a privately-owned technology group headquartered in the UK.
For media enquiries contact:
George Wright, Spartan PR
+44 (0)1242 532202
licensedashboard@spartanpr.com