Russ Lidstone, CEO, Euro RSCG London and Stephen Maher, CEO, MBA will be participating in the UKTI Multi-Sector Trade Mission to China on behalf of the IPA and their agencies to promote the UK to Chinese brand owners seeking to internationalise their brands. The Mission is being led by Lord Green Minister of State for Trade & Investment and takes place next week (28th May-1st June).
The Mission will coincide with the China International Fair for Trade in Services (CIFTIS) featuring exhibitions, forums and trade talks, as well as 'UK day' tailored to showcase British Business, during which Lidstone and Maher will deliver a presentation on 'Building Brands Globally'.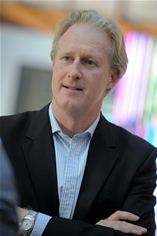 Russ Lidstone
Their presentation will outline how to develop truly effective global brand communications, highlighting MBA's Jackie Chan campaign for Brazilian private jet company Embraer, and Euro RSCG's campaign for Chivas Regal whisky. It will also provide an overview of the IPA's various China-related activities* including highlights from the IPA's three previous successful trade missions to China, during which they have helped agencies to develop relationships with key players in the Chinese marketplace and media; as well as promoting the IPA's International Brand Incubator (IBi)TM, a consumer research and development service that draws on the expertise of UK-based planners and creatives in IPA member agencies to provide Chinese companies with the opportunity to test the consumer appeal of their brands outside China.
Says Russ Lidstone, CEO, Euro RSCG London: "I'm honoured to represent the IPA and the UK advertising industry on this unique trade mission, and to have the opportunity to talk with Chinese brand owners about global opportunities. As an agency CEO with a significant number of international clients, I know that we have the knowledge, creativity and experience to add value to Chinese brands developing their international profile."
Says Stephen Maher. CEO, MBA: "In the UK we have been developing successful brands for decades in enormously competitive markets and so it makes perfect sense for us, on behalf of the IPA, to offer our considerable skills, experience and expertise to successful Chinese brands striving for global success."
Says Janet Hull, Director of Marketing, IPA: "This mission will offer businesses a direct route into the China market making it the perfect opportunity to reinforce how the UK advertising industry can help Chinese brands go global, so I am delighted that Russ and Stephen - such seasoned pros and previous trade mission delegates, are representing us."
For more information about the Mission: http://www.dso.ukti.gov.uk/uktihome/event/274340.html
Notes to editors:
*An overview of the IPA's China-related activities:
The IPA launched its China initiative with a trade mission to Beijing in partnership with the APA in April 2009. Led by former IPA President, Moray MacLennan, a group of five IPA member agencies took part in several events including a conference and a VIP dinner with Chinese brands.
The IPA met with the China Advertising Association and were invited to the China International Advertising Festival in the regional capital of Nanning in October 2009, in order to develop collaboration between the UK and China.
In May 2010, the IPA, led by former IPA President Rory Sutherland, took a delegation of eight member agencies to Shanghai and ran an advertising sector creative workshop as part of UKTI's creative industries contribution to UK Government's World Expo showcase Pavillion programme. Additionally, they visited the municipal government in Nanjing.
In September 2010, the IPA, supported by UKTI, in association with London Design Festival, ran 'Going Global' a conference looking at the value of advertising and how the UK can act as a creative hub to Chinese brands seeking to go global.
In March 2011, the IPA hosted a Chinese delegation led by Asst Minister MOFCOM (Chinese Ministry of Commerce), Mme Qiu, who confirmed that a number of Chinese brands were now seeking to go global and offered assistance in setting up meetings.
In September 2011, the IPA, led by President Nicola Mendelsohn, took a delegation of ten member agencies to Beijing and Shenyang on its third trade mission to China and launched the International Brand Incubator (IBi ™).
Since the launch of the IPA's China initiative in 2009, the number of IPA member agencies with affiliate offices in China has risen from 23 to over 70. Huawei has recently appointed member BBH to run their European business from London.
UK Government and the Department for Business Innovation and Skills (BIS) are committed to promoting both UK export and inward investment with China in the run up to London 2012. There exists the opportunity to develop a special relationship with China in the handover period between Beijing 2010 and the London Olympics in 2012.
The IPA also maintains relationships with the China Advertising Association, China Britain Business Council and the Chinese Embassy in London.
Chinese brand statistics:
14 Chinese brands appear in the 2012 BrandZ Top 100 Most Valuable Global Brands, an increase from 12 in 2011 and 7 in 2010.
Russ Lidstone's biography
After working for Coca-Cola as an ethnographic researcher specialising in the youth market, Russ started his career in advertising in 1993 at McCann-Erickson - where he worked on a range of accounts including Sega. He then joined BDDH as a Senior Planner and worked on a range of accounts including the multi-award winning Harley-Davidson Europe, The Guardian and J. Sainsbury's. Russ then joined HHCL and Partners in 1999, to work on Britvic soft drinks (Robinson's); Egg financial services; Universal Studios Networks and various consultancy projects. He joined Lowe in 2001 to head up planning on the agency's flagship Tesco account and was promoted to Head of Planning in 2003. He was involved in winning numerous awards including: Advertiser of the Year 2004; IPA Effectiveness; AME Effectiveness; Campaign Press; D&AD Creative and Marketing Society awards. After a spell at JWT as Head of Planning where he ran a 30 strong planning team and oversaw clients such as Pfizer, Nestle and HSBC, Russ joined Euro RSCG as Chief Strategy Officer in 2006.
Russ became CEO of Euro RSCG London in 2009 and since then has overseen the agency development of its digital, search, social media (Cupola Lab) and channel capabilities, as well as integrate PR into the heart of the business.
He is a member of the IPA Council, and was recently voted into the Hospital/Independent Media 100 - a list of the UK's 100 'most inspirational creative leaders'.
Stephen Maher's biography
An Oxford graduate and founder of MBA, Stephen began his career at ABM as an account exec ,leaving to join AMV to help launch IKEA in the UK . He then joined the fledgling Simons Palmer running the BT account and rising to Head of Account Management. He left Simons Palmer to start up MBA in 1994 as a JV and subsequently took MBA private from Omnicom in 2006
MBA was recently named in the leading industry magazine Campaign as one of the World's Leading Independent Agencies. http://www.leadingindependents.com/mba.php. Clients include Mercedes Benz, Embraer Executive Jets, Europe's largest hotel group Accor and Amazon's LOVEFiLM. Recent accolades include The Marketing Society E Commerce Award for Excellence and an IPA Effectiveness Award. MBA was also became a 'Best Companies One to Watch' in 2011 http://www.express.co.uk/posts/view/315070/Flying-high-in-booming-economies
Stephen sits on the IPA Council as well as its Membership Committee. He is also an active Fellow and the only agency CEO Board Member of the Marketing Society with particular responsibility for its digital strategy and Asian expansion. He is also a Fellow of the Royal Society of Arts and features in Debrett's 'People of Today'.
The IPA is the professional body for advertising, media and marketing communications agencies in the United Kingdom. Its role is two-fold: to provide essential core support services to its 250 corporate members who are key players in the UK's £16.7bn advertising, media and marketing communications industry; and to act as the industry spokesman.
About EURO RSCG London:
Euro RSCG London is a top five UK advertising agency with a client roster including Air France, Chivas Regal, Citroën, Credit Suisse, Evian, Ideal Standard, Kraft, Nutricia, Mateus, Pernod Ricard, Peugeot, Reckitt Benckiser, Santander, Thomas Cook, V05 and Yakult.
Euro RSCG London is part of Euro RSCG Worldwide, a leading integrated marketing communications agency made up of 233 offices in 77 countries throughout Europe, North America, Latin America and Asia Pacific.
Contact Euro RSCG London:
Associate Director – Paola Nicolaides
Paola.nicolaides@eurorscg.com
07710 325 096