Prestigious award ceremony attended by Her Majesty's Lord-Lieutenant Mary Prior, MP Kerry McCarthy & Mayor George Ferguson
Bristol, UK – 7 October 2013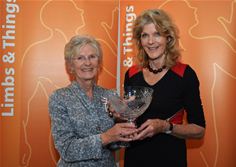 The Queen's Award
Limbs & Things – the UK's leading manufacturer of medical skills training products – was presented with The Queen's Award for Enterprise Innovation by Her Majesty's Lord-Lieutenant Mary Prior on Friday. Limbs & Things, known for its world class medical skills training simulators, which it designs and manufactures in its Bristol factory, has been recognised for its innovative contribution to skills training in medicine. The Queen's Award is the UK's highest accolade for business success.
Limbs & Things in-house design and manufacturing process balances traditional craft-based sculpting techniques with the latest technologies. The result is an innovative range of British made products whose realistic look and tactile feel allow healthcare professionals to build their confidence and skills to ultimately improve patient care.
"We feel extremely honoured to have been awarded The Queen's Award for Enterprise Innovation" said Margot Cooper, President of Limbs & Things. "This award ceremony is a celebration to recognise and thank our employees for all their hard work. It is their sheer dedication, creativity and continuous innovative work that has ensured our remaining at the forefront of the industry."
The prestigious award was presented to Founder and President, Margot Cooper at the Limbs & Things premises in Bristol. Local MP Kerry McCarthy and Bristol Mayor, George Ferguson also attended and gave presentations at the event, which included an interactive exhibition of Limbs & Things key products and a rare opportunity to tour the company's on-site factory.
"Our vision has always been to develop and supply products which allow clinical educators to deliver their curriculum requirements in physical examinations and procedural skills successfully. We remain committed to working closely with leading clinicians and embracing new materials and technologies to help meet the educational needs of tomorrow's doctors and nurses," concluded Cooper.
Adding to its continued innovation excellence, Limbs & Things has recently launched its new Breast Examination Trainer. This exciting product provides a realistic platform for acquiring the delicate skills required for Clinical Breast Examination. Consisting of realistic soft tissue, with the versatility of interchangeable pathologies, the product teaches trainees about the identification of anatomical landmarks and lymph nodes. The training product is supplied with over five different types of pathologies which can be placed in a variety of predetermined locations, offering students further challenges and surprises in their training. The Breast Examination Trainer can be used either as a bench top teaching aid, or worn by a simulated patient during student assessment.
- ENDS -
Notes to editors:
Please note: additional images will be supplied following the event.
To date, the Limbs & Things PROMPT Birthing Simulator is the company's bestselling product. It was developed in conjunction with the midwives and obstetricians from Southmead Hospital, Bristol and the Gloucestershire Royal Hospital. The objective of this model is partly to address the need for improving the management of shoulder dystocia*, and as a result has become an integral part of multi-professional training in many maternity units across the globe.
Limbs & Things is committed to serving training markets in Clinical Skills, Women's Health and Surgical Specialities. Its goal is to produce products which allow clinical educators to deliver their curriculum requirements for physical examination and procedural skills successfully. To achieve this, the company continues to work closely with leading clinicians; it explores new technologies and materials and promotes its products within a worldwide marketplace. It also offers a confidential design and build service for industry and corporate clients.
* Shoulder dystocia occurs unexpectedly during childbirth. It is when the baby's head has been born but one of the shoulders becomes stuck behind the mother's pelvic bone, preventing the birth of the baby's body. Shoulder dystocia can occur during a normal (spontaneous) birth or an instrumental (ventouse or forceps) birth.
'A difficult birth: what is shoulder dystocia?' Royal College of Obstetricians & Gynaecologists, 01/11/2007
Annie Aulds / Cate Bonthuys
Say Communications
Tel: +44 (0)20 8971 6402 / 07
AAulds@saycomms.co.uk / CBonthuys@saycomms.co.uk