Expanding agency benefits from fast, accurate SEO data to support current campaigns and win new business
London, 10 January 2013 - Fast growing digital marketing agency LimeTree has signed up to Searchmetrics' online search and social analytics software to support its Search Engine Optimisation (SEO) practice. It is using Searchmetrics to plan and evaluate international organic search campaigns for clients and drive new business activity.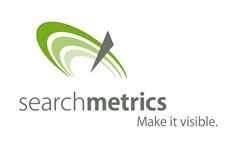 Searchmetrics logo
Based in London, LimeTree has doubled turnover and headcount over the last year. Through its transparent operating model, which relies on data and analysis, LimeTree provides organisations of all sizes with high profile SEO campaigns that deliver outstanding results. Clients include FT.com, The Epilepsy Society, Realex Payments and patent lawyers AvidityIP. As well as SEO, LimeTree provides website design and build, creates mobile applications and runs PPC/search engine marketing campaigns.
Following extensive use of other search analytics tools, LimeTree standardised on Searchmetrics due to its accuracy, usability, speed and international reach. The agency relies on Searchmetrics' international search analytics data to support campaigns for clients across the world. The online software Suite provides analyses for all the major search engines in 123 different countries.
Searchmetrics provides the agency with insight to support new business pitches as well as helping with pre-campaign keyword planning and demonstrating the effectiveness of its SEO and social media strategies during campaign reviews.
Moving forward, LimeTree is looking to extend its use of Searchmetrics to manage entire campaigns from within the Suite.
"We have built our business on being 100% open and transparent with our clients – and to do this we need fast, accurate search data, both for research and campaign reviews," said Malcolm Graham, CEO at LimeTree. "We've used a large number of search analytics tools but Searchmetrics is by far the most accurate – we know we can rely on its results when planning and reporting on campaigns. It really understands the international search market, underpinning our work across the world with detailed local market data."
Searchmetrics is an online subscription service that automates many aspects of SEO analysis, monitoring and reporting for agencies and in-house search marketers. It provides search performance data and analysis relating to multiple domains to support campaign measurement and planning.
"LimeTree's fast growth demonstrates the real benefits the agency and its approach provide to clients of all sizes and sectors," said Kevin Thiele, Sales Director, Searchmetrics Northern Europe. "LimeTree understands that SEO success is based on fast, accurate and comprehensive data and by using Searchmetrics it is able to deliver outstanding results as well as support its new business programme."
-ends-
About Searchmetrics
Searchmetrics GmbH is the pioneer and world's leading provider of search and social analysis software for companies and online agencies. Searchmetrics has a unique server infrastructure and software solution – its Searchmetrics Suite™ – which its clients and partners continually use to aggregate and analyze very large volumes of data on the rankings of websites, keywords in searches and competitor groups. Searchmetrics Suite™ gives users unique insight into the visibility of websites on search engines in 123 different countries and on the largest social media portals. This information plays a decisive role, especially in inbound marketing, where having excellent visibility on search engines is essential for companies to reach potential customers on the Internet.
In addition to the Suite, with its Essentials product Searchmetrics offers a tool set for a quick start in search engine and social network optimization and real-time analysis in Germany, Austria and Switzerland, as well as high-end SEO consulting services. The company has branches in Berlin, London, Paris and New York and operates its SaaS solution through a network of partners and its online shop. The fast-growing company, based in Berlin and currently employing more than 100 staff, is part-owned by the renowned venture capitalist companies Neuhaus Partners and Iris Capital. Many renowned clients, such as T-Online, eBay, Siemens, TUI, GM and Kaspersky rely on Searchmetrics to ensure that they have excellent search engine rankings.
Media Contact
Uday Radia
CloudNine PR Agency
+44(0)7940 584161
uradia@cloudninepr.com