UK Timber Frame Association (UKTFA) chairman Geoff Arnold comments on Grant Shapps' zero carbon homes plan.
"Timber frame construction gets a big boost this week with Housing Minister Grant Shapps' announcement. Shapps confirmed that future Building Regulations will concentrate on getting the fabric of the building right; which is great news for timber frame. The Minister is essentially saying that leaky, poorly built homes with fancy renewable energy systems will, in time, no longer be acceptable – the emphasis should be on putting the fabric first. We only need to look at the social housing market to appreciate this point – social housing regularly achieves Code 4 and it's no surprise that these homes, plus homes achieving Code levels 5 and 6, are timber frame.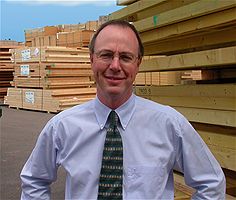 Geoff Arnold, UKTFA
"The future of house building is firmly in the hands of local decision making and local delivery and this is a very positive move. It gives developers much greater flexibility to try and achieve the 2016 target. It's all well and good central government setting the standards but it's a positive step to see government accept that delivery has to be led by local decision makers if zero carbon homes are to be a reality.
The priority now is for developers to get behind Shapps' vision - forget high-cost retrofits and inflexible design –the path is well and truly laid for timber frame."
Ends
About UKTFA
The UKTFA is the sole organisation providing a definitive voice for the timber frame industry throughout the UK.

Committed to the ongoing promotion of timber as the ultimate sustainable building material, the UKTFA actively seeks to raise awareness of the proven advantages of timber frame across all sectors of the UK construction industry.

With 300+ member companies already benefiting from the keen technical expertise and insight the UKTFA offers, the association also provides help and support for other industry insiders looking to embrace a more robust and cost effective way of achieving the highest standards in energy efficiency and building design.

Underpinned with a drive to safeguard the highest quality in building standards, the UKTFA has conducted extensive research in order to gain an unparalleled wealth of knowledge about sustainable construction methods. Its this knowledge that the UKTFA uses to accurately educate the industry about the core benefits of timber frame - such as the speed of erection; thermal and acoustic excellence; durability; environmental friendliness; and design flexibility.

In representing more than 85% of the sector's key manufacturers and suppliers - from architects to engineers; builders to contractors; erectors to other trade associations - the UKTFA is genuinely able to speak on behalf of the industry as a whole, and ensure that timber frame is established as the construction method of choice for an industry striving to achieve a more carbon efficient future.
For more information visit: www.uktfa.com