Logicalis has won 14 awards, across multiple territories and categories at the Cisco Partner Summit 2018 in Las Vegas
London, 28th November 2018 - Logicalis Group, an international IT solutions and managed services provider, today announced that it has scooped 14 awards, across multiple territories and categories at the Cisco Partner Summit 2018 in Las Vegas.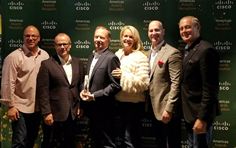 Logicalis Award Winners
Awarded to channel partners who rise to business challenges, the Cisco Partner Summit Global awards are designed to recognise superior business practices and reward best-in-class methodologies. Areas of consideration include innovative processes, architecture-led successes, strategic business outcome-focused programs, seizing new opportunities, and sales approaches.
Logicalis' haul included Architectural Excellence Partner of the Year: Security
awards for Logicalis US and Logicalis Asia. Logicalis Germany was rewarded for its architectural excellence in data centres, while Latin America shone with ten separate partner of the year awards.
Commenting on the successes Mark Rogers, CEO Logicalis Group, said: "We are delighted to receive these awards. First, they validate the work we are doing to help organisations realise the benefits of digital transformation while responding to ever increasing security threats.
"Second, they demonstrate how well equipped we are to help CIOs take the lead in driving innovation. Our own recent survey highlighted CIOs' growing role as 'agents of innovation' in their organisations and Forrester also predicts innovation will be vital to translating tech-led innovation into customer value, so it's great to see our success in helping CIOs 'deliver' reflected in these important awards.
"I would like to thank everyone at Logicalis. It is their work that has cemented our position as an architect of change, and a key source of expertise and support for CIOs worldwide."
About Logicalis
Logicalis is an international multi-skilled solution provider providing digital enablement services to help customers harness digital technology and innovative services to deliver powerful business outcomes.
Our customers span industries and geographical regions; and our focus is to engage in the dynamics of our customers' vertical markets; including financial services, TMT (telecommunications, media and technology), education, healthcare, retail, government, manufacturing and professional services, and apply the skills of our 5,700 employees in modernising key digital pillars; data centre and cloud services, security and network infrastructure, workspace communications and collaboration, data and information strategies, and IT operation modernisation.
We are the advocates for our customers for some of the world's leading technology companies including Cisco, HPE, IBM, CA Technologies, NetApp, Microsoft, Oracle, VMware and ServiceNow.
The Logicalis Group has annualised revenues of $1.6 billion, from operations in Europe, North America, Latin America, Asia Pacific and Africa. It is a division of Datatec Limited, listed on the Johannesburg Stock Exchange, with revenues of over $4 billion.
For more information, visit https://www.logicalis.com/
Press Contact:
Mark Harris
Tentacle PR
+44 7789 746060
mark@tentaclepr.com