Corlytics, the world leader in regulatory risk intelligence, has today announced the launch of Corlytics Solutions Limited. The London based RegTech company is focusing on solutions to help global banks, regulators and financial services players to manage and mitigate financial risk. Corlytics Solutions' presence in London demonstrates Corlytics Group's deep commitment to its London-based customers, as it continues to provide an evidentiary view on enforcement actions.
As general manager, Mike O'Keeffe will be responsible for leading Corlytics Solutions. Mike has spent 15 years in security, risk, fraud and compliance solutions across major blue-chip organisations. He joins from Telstra, where he headed up the security risk analytics business. He will be supported by Gary Whitehead as general counsel.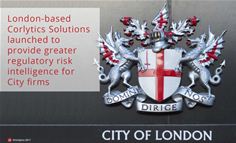 Corlytics Solutions
Adding to the strength of the senior team, Corlytics Solutions has appointed new board member, Bryan Howett, former CFO of Zurich and a former board member of Old Mutual plc. The Threadneedle Street based team has the vital experience needed to support their global customers.
John Byrne, CEO of Corlytics Group said: "Demand for regulatory risk support is at an all time high. Corlytics was created in 2013 to fulfil an urgent need in the global financial services industry for insightful, accurate regulatory risk intelligence. The top 20 banks paid out over $9 billion dollars in fines in 2016 alone. Regulation is not slowing and is providing a constant challenge to financially regulated firms and for the regulators themselves.
"The addition of a senior team and strengthened board in London is part of our long-term strategy to support global firms from key financial hubs across the world."
-ENDS-
Contact
For media enquiries, please contact:
Jo Cresswell or Kirsty Leighton: 020 3637 7310 / 07745723909 jo@milkandhoneypr.com
About Corlytics
Corlytics is the world's leading provider of regulatory risk intelligence.
Corlytics works in partnership with banks, regulators and eminent financial institutions globally. Enabling a more transparent and stable financial system through greater regulatory planning. By delivering world class regulatory risk data and analytics, it empowers its partners to make transformational, informed, positive choices.
Corlytics enables high performance in the financial services market.
Corlytics is at the very fore of regulatory intelligence revolution. Corlytics delivers 360-degree intelligence through our four different professions – leading data scientists, seasoned technologists, proven banking risk practitioners and expert lawyers. It measures, predicts and calculates regulatory outcomes and impact. Providing evidence in real time.