TransferWise brings movement for greater transparency in banking to the U.S. in spectacular, unclad fashion
New York, NY – February 27, 2015 – Just weeks after landing a $58 million funding round led by Andreessen Horowitz, TransferWise founders Taavet Hinrikus and Kristo Käärmann yesterday led a naked protest through the heart of New York's financial district. The spectacle, organised by the co-founders of the London-based money transfer startup, was designed to showcase the company's arrival in the USA and demonstrate its mission to disrupt some of banking's least transparent practices.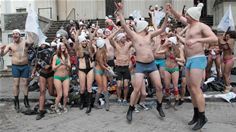 Disruptive London startup TransferWise launches in the US with 200-person naked protest in freezing New York temperatures.
Unwavered by one of the coldest winters on record in the Big Apple, over 200 demonstrators stripped down to just their underwear at lunchtime and marched through Wall Street. The protest was staged against the murky practices of financiers that impact billions of people the world over, including fees hidden on international money transfers.
At nothing2hide.nyc, TransferWise has compiled a series of photos and videos from the stunt and provided more information about how banks hide money transfer fees within an artificially inflated exchange rate.
TransferWise is no stranger to mixing nudity and money transfers, albeit in more hospitable temperatures – the company's proudly Estonian co-founders installed a sauna in their office in London.
Taavet Hinrikus, co-founder of TransferWise, said:
"We wanted to show America that we're here to disrupt a banking system that isn't offering transparent or fair services a lot of the time, and that we're willing to get naked if that helps inform people about the issue! In the age of the sharing economy and game-changing services like Uber and AirBnb no industry should feel safe from disruption, least of all financial services. People shouldn't get ripped off, they deserve low fees, clear pricing and a fair deal."
TransferWise has attracted $91M from some of the world's leading investors. Most recently, this includes Andreessen Horowitz, Sir Richard Branson and Peter Thiel.
For more information and to start transferring your money abroad, visit www.transferwise.com.
Pictures are free to use and are available by contacting press@transferwise.com. For more information, please call Hannah Martin (07950392961)
Notes to editors:
TransferWise, the international money transfer platform.
About
International money transfers are more expensive than meets the eye - even when banks and brokers claim there are 'no fees'. Many banks take as much as 5 percent of the money being sent. TransferWise is the clever new alternative that allows people to transfer money abroad at a lower cost than ever before. It uses technology developed by the people who built Skype to remove all the fees the foreign exchange industry has kept hidden for decades. Customers have transferred £3bn using the platform - an approach that has put over £135m back in their pockets.
How did TransferWise get started?
Estonian friends Taavet and Kristo came up with the idea for building the platform when they first became expats in London and were confronted by the high fees banks charge to transfer money abroad.
Taavet had worked for Skype in Estonia, so was paid in euros, but lived in London. Kristo worked in London, but had a mortgage in euros back in Estonia.
They realised they each needed the currency the other had, so they devised a simple plan: every month Kristo put pounds in Taavet's British bank account and Taavet put euros in Kristo's euro account. They used the official mid-market rate exchange rate (that's the one in the papers, not the one invented by the bank). They both received the right amount of money, and neither paid any bank fees.
Within a few months they'd saved thousands of pounds and realised there were probably millions of others that needed a system just like theirs. So they set to work - the rest is TransferWise.
Currencies
TransferWise supports currency transfers between euro, British pound, Swiss franc, Polish zloty, Turkish lira, Romania leu, Bulgarian lev, Georgian lari, Hungarian forint, Danish, Swedish, Czech, Norwegian krone, Canadian and US dollar. It also supports transfers from these currencies to Indian rupee, Malaysian ringgit, Philippine peso, Singaporean, Hong Kong, Australian and New Zealand dollar. Transfers from these currencies to all other supported currencies and many other routes are coming soon.
Customers
TransferWise has reduced the cost of sending money abroad so significantly it doesn't have a "typical customer". Anyone who lives, works, studies or does business abroad will find significant savings.
That said, there are several broad groups we are particularly popular with at the moment.
These include:
(1) People just like Taavet and Kristo, TransferWise's co-founders. Expats who are paid in one currency, but spend their money in another.
(2) Freelancers who get a rotten deal from the banks and brokers alike. Susan, an Irish freelance writer customer of ours, has worked out that she was losing hundreds a year when her British clients paid her through PayPal.
(3) British pensioners who have retired to Spain and want to see their retirement funds go further.
(4) Small and medium-sized businesses. Every small business needs to make their cash go as far as possible. This is particularly true of startups who raise overseas investment don't want to see 5 percent of it go to the banks.
Growth story
Customers have transferred £3bn using the platform - an approach that has put over £135m back in their pockets.
TransferWise started in early 2011 with the two founders, making transfers between just British pound and euro. It has since added a further 250 members of staff and 292 currency routes. The firm continues to grow between 15-20 percent a month.
Investors
TransferWise has attracted $91m from some of the world's leading investors. Most recently this includes Andreessen Horowitz , Sir Richard Branson and Facebook's first outside investor and co-founder of PayPal, Peter Thiel. TransferWise was his first Valar Ventures investment in Europe.
Other investors include SV Angel, fellow PayPal founder, Max Levchin, IA Ventures, Index Ventures, TAG (Robin Klein and Saul Klein), Seedcamp, Betfair's former CEO David Yu, and the owner of Le Monde Xavier Niel (via Kima Ventures).
Awards
TransferWise was named Europe's best startup in 2013. It won the Financial Times's 'Boldness in Business Award' in 2014, was selected as one of Fast Company's 'most innovative companies' in the world, and has most recently been selected as one of Wired's 'Top 10 London Startups' 2014.
Stop Hidden Fees
TransferWise recently called on the British government to clean up the pricing of foreign exchange. The campaign was launched with a petition that attracted 18,000 signatures within a week. The cause has been championed by Shadow Digital Minister Chi Onwurah MP and Tessa Jowell MP among others. To read more about the campaign and to sign the petition, visit stophiddenfees.co.uk.
What are the founders' backgrounds?
Taavet Hinrikus
Taavet Hinrikus is co-founder of TransferWise. Prior to starting TransferWise, Taavet was Skype's director of strategy until 2008, starting as the firm's first-ever employee. He also helps the startup community as an advisor and angel investor. His investments include Tweetdeck, Mendeley, OMGPOP, Betaworks, Sunrise and Mapillary among others.
At TransferWise, Taavet looks after marketing and product development.
Kristo Käärmann
Kristo Kaarmann is the co-founder of TransferWise. Prior to starting TransferWise, Kristo was a management consultant with Deloitte Consulting and PricewaterhouseCoopers. He worked with European banks and insurers to modernise their processes and systems. Stunned by their inefficiency, he teamed up with Taavet Hinrikus, then Skype's director of strategy, to develop an entirely new system for moving money across borders.
At TransferWise, Kristo is in charge of operations, development, and compliance.
Security
TransferWise is fully regulated by the UK's Financial Conduct Authority (FCA; formerly the FSA - Financial Services Authority). REF 571669