Love2shop is today pleased to announce the launch of 'Shout!', a social employee recognition platform that improves workplace cultures through values-driven 'shout outs'.
Shout! furnishes employees with an engaging online tool to publicly celebrate positive workplace contributions and behaviours, every day.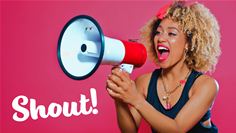 Shout! Employee Recognition
Why use social recognition
Social recognition improves engagement, loyalty, productivity and teamwork. It's a significant improvement on traditional top-down recognition, creating a groundswell of real-time positivity instead of waiting for leadership to issue recognition.
Social recognition lets employees know their work is treasured, and that they're valued by their peers. Seeing that quality work is valuable to their team, they're more likely to replicate it in the future.
The cumulative effect is greater motivation to produce quality work, deeper and stronger bonds between employees, and a greater sense of value in the workplace.
Adam Whatling, Head of Engagement & Product Development at Love2shop Business Services, commented:
"I can't wait to share Shout! with clients. This platform is going to make workplaces more cooperative, more fun and more positive places to work.
"Social recognition is poorly used in most organisations, even though it has so many benefits. Our Shout! platform is the most accessible and effective way to start making a noticeable improvement to your workplace culture."
Accessible, intuitive, rewarding
The intuitive Shout! platform leans into familiarity with social media, with all expressions of recognition hosted on a communal public newsfeed for anyone in the business to see.
All acts of recognition are framed through the company's values. This makes it easy for employees to see how their contributions at work assist the business in achieving its' overall goals, and uphold the company's ethical standards.
Companies can also choose to plug Love2shop's extensive catalogue of rewards into the Shout! platform, issuing non-cash prizes to employees who pass a certain threshold of recognition for positive contributions.
To find out more about Shout! please visit: https://www.love2shopworldwide.com/employee-recognition/
--END--
Notes for editors:
The Love2shop Engagement Services team will be at Employee Benefits Live on the 2nd and 3rd of October. They'll be hosting live demos of the platform and offering free trials to Employee Benefits Live delegates.
About Love2shop:
Love2shop Business Services is one of the UK's largest business reward providers. We offer recognition, incentives, rewards and travel for businesses around the world.
We're home to market-leading products like the Love2shop Gift Voucher, Love2shop Gift Card, a wide selection of e codes, and a full-time concierge holidays department to book travel.
About Park Group:
Park Group plc is the UK's leading provider of prepaid gift cards, multi-retailer gift vouchers and digital rewards services, to corporate and consumer markets.
Contact:
Robbie Davies
Love2shop Business Marketing Manager
Email: rdavies@love2shop.co.uk
Tel: 0151 653 1864
Post:
Robbie Davies
1 Valley Road Birkenhead
CH41 7ED