Love2shop Business Services, the Corporate division of £385m turnover Park Group plc based in Birkenhead, has acquired Fisher Moy International Limited, the brand engagement specialists, in an all-cash deal for an undisclosed sum.
Chris Hartley, Director of Love2shop Business Services commented: "The synergy between the two businesses made this acquisition an easy decision all-round. With our market-leading consumer reward technology combined with FMI's strategic alliances with its client base we can now offer an end-to-end engagement boosting service for any business that wants to improve its relationship with customers and employees."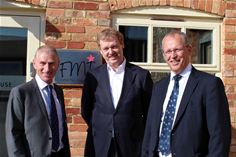 L-R: Chris Hartley, John Fisher, Chris Houghton
John Fisher, Managing Director, FMI Ltd. and author of Strategic Brand Engagement, said: "Love2shop is one of our most respected clients. They had previously asked us to devise an online engagement platform for their many corporate clients. After a few months it became apparent that we could offer their clients a much broader engagement service than the provision of rewards alone, so a closer type of cooperation was discussed."
FMI will remain in Chilton, Buckinghamshire and will initially continue to operate under the existing brand in order to spearhead Love2shop's engagement services expansion and act as a local base for clients in London and the Thames Valley.
-ENDS-
Editors' Notes:
About Love2shop Business Services
Love2shop is the UK's leading multi-retailer gift voucher and prepaid gift card, accepted at over 150 major retailers with more than 20,000 stores UK wide. Love2shop schemes are tailored to individual customer needs, principally recognising and rewarding a range of consumer behaviors. These include customer loyalty and acquisition, referral generation, market research and sales promotions, but are also applicable to a vast range of other possibilities.
Love2shop Business Services is a part of Park Group plc, based in Birkenhead. The company is focused on the corporate gift and Christmas savings markets with sales generated through the internet, a direct sales force and agents.
About FMI
Fisher Moy International Limited (FMI) is a strategic brand engagement consultancy based in Chilton, Buckinghamshire with more than 30 years' experience working with major blue-chip clients. From impactful events such as conferences and travel trips to targeted incentives and rewards, FMI's team of creative thinkers generate great ideas that drive better results. With experienced comms and events teams positioned under one roof working together smartly in order to communicate a client's message clearly, build brand loyalty, reward desired behaviours and incentivise growth.
For more details about this acquisition please contact
Anastasia Psarra
Cerub PR
01494 461844
anastasia@cerubpr.co.uk
Ceri-Jane Hackling
Cerub PR
01494 464784
ceri@cerubpr.co.uk