London, UK - Aug 1st, 2012 - M&C Saatchi Mobile, the industry leader in mobile marketing, today announced its expansion into the sub-Saharan continent with the launch of South African offices in both Cape Town and Johannesburg. M&C Saatchi Mobile has launched full mobile marketing services agencies, offering three core services - Media planning and buying, Creative & Production and Consultancy.
By establishing their presence in South Africa, M&C Saatchi Mobile intends to bring their expertise as a full service mobile marketing agency to bear upon a new raft of companies in the region who are looking to leverage the growing mobile medium. The move will further enable existing M&C Saatchi Mobile clients to greatly increase the local capabilities of their global campaigns. The South African mobile market currently represents one of the fastest growing opportunities for mobile marketing on the continent with over 95 per cent mobile penetration of the population of which up to 18 per cent is comprised of smartphones. It is a country where more people use their phones than listen to the radio or watch TV and for many people, mobile phones represent their primary access point to the internet.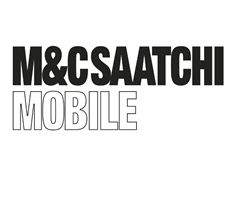 M&C Saatchi Mobile Logo
"M&C Saatchi Mobile has well established London, New York, Los Angeles and Paris offices. We are delighted to announce the expansion of our Mobile offerings to South Africa." said James Hilton, Global CEO of M&C Saatchi Mobile, in Sandton today.
"We pride ourselves in being a true full service mobile and tablet marketing agency. We can assist with both the strategic and tactical approach to making mobile and tablet an integral part of the marketing strategy." said Hilton
Tracy Kruger, M&C Saatchi Mobile South Africa commented, "With smartphones on the increase in South Africa, it provides marketers with an expanding array of ways to utilize the capabilities of the devices such as rich media, location based services and social media. Mobile provides an opportunity for brands to engage in continual two-way conversations with customers. When used as part of an integrated campaign, mobile provides brands with a highly engaging, interactive medium. Mobile technology has driven change and will continue to do so in South Africa at an ever-increasing rate as technology evolves and as we harness its potential."
"It is our overarching objective to provide clients with simple, easily understood products and services that fully utilise the mobile and tablet marketing opportunity" said Hilton. "We will leverage the credentials of and lessons learnt by other global M&C Saatchi Mobile offices. At the same time we will access the creative and strategic communication resources of M&C Saatchi Abel, recently judged by Finweek as South Africa's Breakthrough Agency of 2012." Concluded Kruger.
M&C Saatchi Mobile will be opening an additional office in Sydney before year-end.
-ends-
For further information, please contact:
Robert Haslam: +44 20 7033 2660
dimoso PRESS OFFICE LONDON
Email: Robert@dimoso.com
Notes to editors:
M&C Saatchi Mobile is the leading full service mobile marketing agency. M&C Saatchi Mobile's mission is simple: to help brands engage with their customers using creative mobile solutions.
Formed in 2006, the agency offers three core mobile marketing services: mobile strategy, mobile production (including for iPhone, Android, iPad and HTML 5) and mobile media planning and buying. M&C Saatchi Mobile works with a number of mobile-savvy brands including Topman, Reebok, Sky, BMW, Harper Collins, HSBC, Dior, and Yahoo. Its global reach enables it to offer an unrivalled service to any business looking to deliver creative, effective and measurable results through the mobile screen.
M&C Saatchi Mobile is the proud recipient of multiple industry awards including the Direct Marketing Association (Best Use of Mobile), Festival of Media (Best Use of Mobile), D&AD Mobile Yellow Pencil nomination, MAMA (Best use of Mobile) and a Mobile Meffy nomination.
M&C Saatchi Mobile employs over 70 people internationally with offices in London, New York, LA, Paris, Cape Town, Johannesburg and Sydney. http://www.mcsaatchimobile.com/ +44 207 033 2660
Tracy Kruger Bio
Prior to joining M&C Saatchi Mobile, Tracy was Mobile Account Director at Thumbtribe Mobile Solutions. In this role, Tracy was responsible for selling mobile advertising across leading networks such as Mxit, Vodacom and 40+ premium mobile environments providing her with valuable insights into the South African Mobile Landscape.
She provided strategic input for mobile campaigns for top brands such as Unilever, Caltex, Pioneer Foods, Red Bull and First National Bank. She managed all Agency relations providing strategy and direction on all Mobile campaigns including Native, Acceleration, Mindshare, OMG Digital, Note Bene, Page Three Media and Lighthouse Digital.
Tracy previously spent 10 years working for Independent Online, one of South Africa's largest news and information websites, owned by the Independent News and Media organization- South Africa's largest publisher of print material.
Tracy started her career as the Client Services Manager and later joined their dynamic Sales and Marketing team where her role included establishing and maintaining significant relationships with national advertising agencies and designing Digital strategies for clients such as First for Women, 1LifeDirect, VW, Audi, Nedbank, Toyota and MTN.