Suggests satellite technology and EU funding for voucher schemes that facilitate immediate connectivity for rural residents
Paris/Brussels. 28 January 2015 - MEP Michela Giuffrida is today hosting a European Parliament event organised with Eutelsat Communications (NYSE Euronext Paris: ETL) to encourage politicians to take action and use satellite technology to bring high-speed broadband to rural areas to bridge the Digital Divide. In addition, the event will address the role satellite can play in the future to achieve the Digital Agenda objectives for 2020 with increased broadband speeds of over 30Mbps.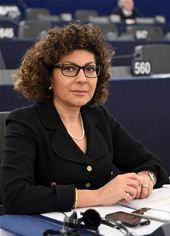 MEP Michela Giuffrida
With 6 million* homes across the EU still unable to receive high-speed internet access from traditional fixed land-based services and with one third of all internet subscriptions in the EU operating at speeds below 10 Mbps*, the event "Digital Divide in Rural Areas: Satellite Broadband Solutions" is designed to highlight how satellite can immediately bring speeds of up to 22Mbps to rural homes. It will showcase how regions are successfully using EU funding and satellite technology to connect their communities using voucher schemes bringing communications, education, health and local economy benefits. With these schemes, residents in Digital Divide areas are entitled to a voucher covering the initial cost of the satellite broadband equipment and connectivity. This voucher can be used with a range of competitive suppliers, ensuring market competition.
Italian MEP Michela Giuffrida will host and welcome MEPs, national and regional politicians and civil servants and media to the Brussels event. Jean-Francois Bureau, Eutelsat's Director of Institutional and International Affairs, will explain how satellite broadband works and how it has already enabled hundreds of thousands of homes across the EU to get online. Eutelsat's tooway™ satellite broadband service, for example, can be installed in any home across Europe and the Mediterranean Basin, operates with a small (77cm) easy-to-install satellite dish and a modem without the need for a telephone line and is provided through KA-SAT, Europe's most powerful satellite.
Christian Carriere, President of the Eure-Et-Loire Numerique organisation in France, will present a best practice case study showing how regions can use satellite technology and EU funding with a voucher scheme to connect rural residents.
Speakers will also be joined for a panel debate and questions on the role of satellite broadband in national regional strategies within the EU Framework and the way forward with the new EU Digital Agenda and Single Market by Normunds Popens, Deputy Director General of the EC's DG REGIO; Mihail Dumitru, Deputy Director General of the EC's DG AGRI; and Thibaut Kleiner, Head of Network Technologies at the EC's DG CNECT.
MEP Michela Giuffrida said: "With so many rural communities across Europe still unable to access broadband, I am delighted to be able to bring together the key European, national and regional influencers to highlight how successful solutions have already been implemented and to discuss how more of these schemes can be created using the satellite technology and EU funding we have available today."
"Voucher schemes, such as those in the Eure-et-Loir region in France, in Galicia in Spain and Piedmont in Italy, have already proven how effective they can be in overcoming the barriers of upfront hardware and connection costs and the challenges of how to deploy public funds effectively," commented Jean-Francois Bureau, Eutelsat's Director of Institutional and International Affairs. "We hope that by organising events such as this, we can encourage and demonstrate how other regions across Europe can help their communities to benefit from satellite broadband technology, such as Eutelsat's Tooway™ service, which is already available across all of Europe today."
For further information on The Digital Divide in Rural Areas: Satellite Broadband Solutions event visit: http://goo.gl/9kbAud
More information about satellite broadband availability in Europe and local resellers can be found at: www.broadbandforall.eu
For more information about tooway™ satellite broadband visit: www.tooway.com
* EU Digital Agenda Scoreboard statistics
About Eutelsat Communications
Established in 1977, Eutelsat Communications (NYSE Euronext Paris: ETL, ISIN code: FR0010221234) is one of the world's leading and most experienced operators of communications satellites. The company provides capacity on 35 satellites to clients that include broadcasters and broadcasting associations, pay-TV operators, video, data and Internet service providers, enterprises and government agencies. Eutelsat's satellites provide ubiquitous coverage of Europe, the Middle East, Africa, Asia-Pacific and the Americas, enabling video, data, broadband and government communications to be established irrespective of a user's location. Headquartered in Paris, with offices and teleports around the globe, Eutelsat represents a workforce of 1,000 men and women from 32 countries who are experts in their fields and work with clients to deliver the highest quality of service.
For more about Eutelsat please visit www.eutelsat.com
About Eutelsat Broadband
Eutelsat Broadband provides satellite broadband services to residential and professional markets, as well as to broadcasters, across the European continent, North Africa and large parts of the Middle East. Its residential product tooway™ is the best in class satellite broadband solution and a unique cost-effective alternative to terrestrial access technologies in unserved and underserved areas, with download speeds up to 22 Mbps and upload speeds up to 6 Mbps. The connectivity needs of corporate customers and telcos are also catered for through the KA-SAT Access product line and its VNO and VPN solutions. Eutelsat Broadband also provides the latest IP based satellite news gathering solutions, with its NewsSpotter service. For more information, visit: www.eutelsat.com/en/services/data/eutelsat-broadband.html
Media Contact:
Paul Smith
Tel: +44 (0)7770 828525
paul@rsc4business.com