LONDON, 19 January, 2011 - Mobile TeleSystems OJSC ("MTS" - NYSE: MBT), the leading telecommunications operator in Russia and the CIS, has recently announced the launch of MTS Navigator, a highly advanced personal search, mapping and navigation solution powered by Telmap. The MTS Navigator service is supported by many GPS-enabled devices, and will soon be available on the full range of such devices. The service is now also available to MTS subscribers on the MTS 840 device, and will be free to all MTS customers for the first year.
MTS Navigator, powered by Telmap, provides full Russian language support and includes in-car navigation with 3D moving maps, voice guidance directions that announce street names, and a dedicated pedestrian mode. In addition, MTS Navigator has access to thousands of points of interest across Russia such as restaurants, bars, hotels and more.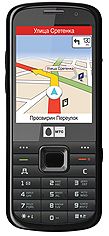 MTS - Screenshot
Oren Nissim, Telmap CEO, said, "Telmap is confident that MTS Navigator will provide MTS subscribers unique, customized and localized location-enabled experience, and we will continue working with MTS on adding local content and information to the service, striving for an optimal user experience."
Mikhail Gerchuk, MTS Vice President and Chief Marketing Officer, highlighted, "We are excited to offer our subscribers free search, mapping and navigation services which we believe will offer true added value to our subscribers everyday lives."
- ENDS –
Notes to Editors
About Telmap
Telmap is a world leader in mobile location-based services that are fully designed to open new business opportunities and generate new revenue streams. The company has established a solid reputation for providing its customers with innovative, value added end-to-end mobile location based services that enrich on-the-go experiences through integration of local content, community interactions, and relevant retail offers.
Telmap's flagship product is the world's first personalized Mobile Location Companion integrating innovative and patented technologies including Telmap Active Interface, Telmap Active Search and Telmap Active Widgets. A complementary web companion is also available, as well as a robust location platform with a set of APIs to support Telmap customers in delivering a strong LBS strategy.
Telmap is the #1 provider of choice for mobile location-based services and its technology has been selected by leading industry players such as Orange FT Group, Vodafone, Vodacom, SFR, O2, Telefonica, SingTel, OPTUS, Cellcom, Pelephone, and more.
For more information, please visit www.telmap.com, follow Telmap on Twitter, or look for the Telmap page on Facebook.
For further information on Telmap, please contact Mi liberty:
Karel Kumar
T: +44 (0) 20 7751 4444
E: kkumar@miliberty.com
About MTS
Mobile TeleSystems OJSC ("MTS") is the leading telecommunications group in Russia, Eastern Europe and Central Asia, offering mobile and fixed voice, broadband, pay TV as well as content and entertainment services in one of the world's fastest growing regions. Including its subsidiaries, the Group services over 105.0 million mobile subscribers in Russia, Ukraine, Uzbekistan, Turkmenistan, Armenia and Belarus, a region that boasts a total population of more than 230 million. Since June 2000, MTS' Level 3 ADRs have been listed on the New York Stock Exchange (ticker symbol MBT).
Additional information about MTS can be found at www.mtsgsm.com.