Company to reaffirm commitment to open source by removing commercial licence from all SAFE Network libraries
Ayr, SCOTLAND, April 25th 2018 – MaidSafe, the developer of the world's first and only autonomous data network, announced a major development in its strategy at SAFE DevCon 2018, its first developer conference in Europe. David Irvine, founder and CEO, MaidSafe confirmed that moving forward it is removing its commercial licence and contributor licence agreement from all existing SAFE Network libraries.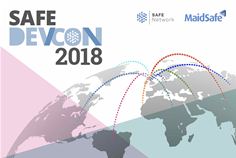 SAFE DevCon 2018
The change, which will take place during the next week, will simplify the terms under which SAFE Network libraries may be used while encouraging more developers to experiment with the platform. The move also reaffirms the company's commitment to the open source movement.
The core libraries will be licensed via GPLv3 only while the API's and SAFE Network bindings, which include Node.js, Java, C# and the Web API, will be licensed using both MIT and the Modified BSD license.
In practice this change means that developers building on (forking) MaidSafe's core libraries must use the GPLv3. Conversely, developers using the SAFE bindings may choose whatever licence they wish for their apps. Further information is available via the recently launched SAFE Network developer hub, a new resource for all SAFE developers.
"Having open source foundations has been vitally important to the success of the SAFE Network and today's announcement renews our commitment to ensuring the core platform remains open to everyone while providing flexibility to app developers" said David Irvine, founder and CEO, MaidSafe. "Ultimately, we believe being community-led will help the network to prosper and we will continue to support and protect its open source principles."
About MaidSafe
MaidSafe is a company founded by David Irvine in 2006, which has a mission to provide security and privacy for everyone by building a better internet platform. This new platform is the SAFE Network, which is the world's first autonomous and decentralised data network. The network is made up of the unused hard drive space, processing power and bandwidth of its users. The SAFE Network will include storage, peer-to-peer communications, transactions, internet functionality and a wide variety of apps to name a few of its features.
For more information about MaidSafe, please go to: https://maidsafe.net/
For more information about SAFE Network please go to: https://safenetforum.org/
SAFE Network developer resources are available at: https://hub.safedev.org/