New name, new ownership, new UI and roadmap
Email Security company Mailsphere today announces its rebrand and relaunch as Xift.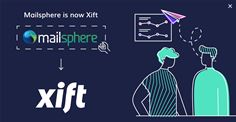 Mailsphere is now Xift
Lee Burgess, Peter Groucutt, Oliver Mather and Tom Roberts are the new Directors of the business and have big ambitions for product development and the market opportunity.
Peter Groucutt explains the reason for the rebrand: "Email has changed. Increasingly, mailboxes are in Office365 rather than on-premises Exchange servers. Those mailboxes still need spam and virus protection, but with that change comes the need to archive data from other sources like SharePoint and OneDrive."
Mailsphere is changing to fit that new market and is now Xift (pronounced /zift/).
"We chose this name because of the parallels with sifting to find value. Xift separates the proverbial wheat from the chaff - the useful data from the useless or dangerous.
"We have an ambitious development roadmap planned expanding Xift beyond email archive to protect more data sources. We are adding new functionality, improving the UI and investing in our support team."
Email security for the channel
According to Groucutt, the channel needs a new solution: "The email security market is mature and has become stagnant. Vendors have been increasing prices rather than delivering value for money. Every time a customer renews its contract, they're introduced to new add-ons and greater cost. The result is bloatware and expensive products that don't deliver value."
"Archive prices, in particular should be falling in line with reductions in cloud storage costs, but they haven't. And what most frustrates customers is that they are being held hostage by exorbitant archive-extraction costs and feel locked-in."
Xift is different. It's stripped back to just the features that businesses really need: Security, Continuity and Archive.
"We're here to disrupt the market with a seriously affordable product at less than half the price of the competition."
Xift is 100% channel-focussed, delivering a consistent, predictable and high-margin security service. It is distributed to MSPs in the UK by Westcoast Cloud and has a network of partners already providing email security services.
"Our pricing is aggressive to help displace incumbent solutions, or to include as an add-on with every email mailbox sold.
"Partners selling email security products have been suffering. They lose margin when contracts are re-signed so get trapped in a cycle of being forced to upsell new features in order to maintain revenue. Really, their customers just want to reduce email security costs. We're offering consistent margin for the lifetime of the customer and a solution fit for the new world of email.
"Email is the hub of business communications. It's the cyber-frontline against viruses, ransomware and phishing. The shift from on-premises email to Office 365 is a fantastic opportunity for MSPs to revisit security options with their customers, improve customer preparedness and update their product portfolio to be fit for modern email and productivity."
The team
Xift's founders hail from business continuity specialist, Databarracks, HP and MessageLabs (now owned by Symantec).
Groucutt outlines the team: "Tom, Oliver and I have run Databarracks, a specialist Disaster Recovery service provider for the last 15 years. Lee Burgess has been in enterprise technology for over 20 years and is the chief technologist behind Xift. Lastly, Stephen Chandler and Ian Milbourn are obviously not strangers to the email security market – founding, running and ultimately selling MessageLabs to Symantec for $700m in 2008. Together, we combine that experience in enterprise tech, focused customer service and email security to deliver a modern solution, fit for today's challenges."
-ENDS-
About Xift
Xift gives businesses affordable email Security, Continuity and Archive with no lock in. It's email protection stripped back to the essentials.
Protect against phishing attacks, viruses and malware. Send and receive emails during outages to your email service. Keep copies of all emails remotely in a searchable and encrypted archive.
Our founders hail from business continuity specialist, Databarracks, HP and MessageLabs. With years of expertise in email security, enterprise tech and focussed customer service, your email is in safe hands.
Xift is easy to use, lets you own your own data, and gets your budget under control.
Contact
Sean Hand
Spreckley Partners Ltd
Email: hand@spreckley.co.uk
Tel: +44 (0) 207 388 9988