London, 15th December 2011 – Econsultancy has today announced the recipient of its new Excellence in Digital Marketing award, named in memory of one of the UK's foremost digital marketing trainers, speakers and practitioners, David Hughes.
Jenny Thaw, who graduated from Manchester Metropolitan University in July with a BA in Retail Marketing Management, was awarded the newly launched prize after gaining top marks in the dissertation element of her degree.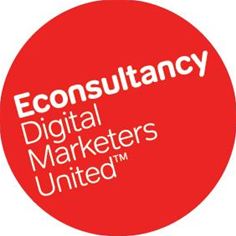 Econsultancy logo
David was an integral part of Econsultancy's training team, working with the organisation from the training division's launch in 2005 and delivering some of the most popular courses, including Email Marketing and the Digital Marketing Fast Track. He also regularly contributed to Econsultancy events and research.
Vivien Underwood, Training and Operations Manager at Econsultancy commented, "David was a core member of our training team, delivering a range of courses which never failed to attract fantastic feedback and keep people coming back for more. We felt that introducing an educational award, given in his name, was a great way to remember his passion and dedication not only to digital marketing, but also to supporting the entry of new talent into the industry. We're thrilled to be able to present the award to such a talented student with a great future.' Vivien also offered her thanks to David's wife, Melanie, and his business partner, Chris Combermale, for allowing Econsultancy to put together an award in his name.
The focus of the award is to provide the successful student with plenty of visibility in the industry. Jenny will contribute to the Econsultancy blog regarding her experiences of digital education through university and her subsequent search for work. She will also be featured on the soon to be launched careers section of the site and Econsultancy's CEO, Ashley Friedlein, will be offering career mentoring over the coming six months.
David Edmundson-Bird, who acted as Jenny's dissertation supervisor in her final year at Manchester Metropolitan University Business School, said: "The award is a great way for undergraduates to gain recognition outside the educational system and the backing of Econsultancy and David's name lends significant weight to their achievements. Jenny is an extremely deserving graduate with great prospects and our hope is that the award will continue to gain credibility as a mark of excellence in digital marketing education."
Jenny Thaw said, "Winning the award was quite a surprise. The digital marketing aspect of my degree was fascinating and I'm extremely pleased with the results I achieved. I'm pleased to have found a position straight out of university and I hope to continue to grow my experience in this field. The award certainly adds to my CV – I think this kind of recognition from respected organisations in the industry is invaluable to recent graduates and I hope that the award grows in terms of success and recognition."
Ends
About Econsultancy
Econsultancy is a community where the world's digital marketing and e-commerce professionals meet to sharpen their strategy, source suppliers, get quick answers, compare notes, help each other out and discover how to do everything better online. It was launched in 1999 and since then has grown to a dominant position in the digital marketing industry. Its website and blog attracts over 240,000 unique users per month and its range of courses and conferences are attended by over 5,000 marketers every year.
Econsultancy's reports, events, online resources and training programmes help 110,000 members make better decisions, build business cases, find the best suppliers, look smart in meetings and accelerate their careers.
Econsultancy's training division is used by the world's leading brands for staff education, both in-house and via public courses. Courses run across all areas of digital marketing and e-commerce, and at all levels from accredited one-day courses MSc programmes in Digital Marketing Communications and Internet Retailing.
For more information, visit http://econsultancy.com or follow @econsultancy on Twitter
Media contacts:
Econsultancy:
Laura Wall (@Econsultancy)
Tel. 020 7269 1469
Laura Wall [@] econsultancy.com
EML Wildfire Tech PR:
Danny Whatmough/Roz Ward
Econsultancy@emlwildfire.com
020 8408 8000