New passive 3D glasses with sun protection provide a complete experience
Berlin, 2nd September 2011: Marchon3D™ (www.marchon3d.com), a developer, manufacturer and worldwide distributor of passive 3D glasses, introduces its new eyewear collection in Europe at IFA 2011 Berlin (hall 25, stand 134). The EX3D™ glasses (www.EX3D.com) will be available in the United Kingdom and in almost all European countries for the first time from September 2011.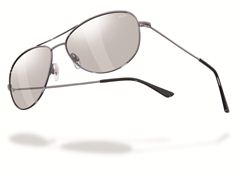 EX3D 5010
The EX3D collection (www.EX3D.com) utilises patented M3D™ technology from Marchon3D, whereby three-dimensional images can be reproduced through curved lenses in high definition. The wearer can move and turn their head freely while wearing the glasses, without causing any distortion. The EX3D glasses are attractively designed, offer a high degree of comfort and 100% UV protection.
The EX3D collection includes 25 different models for children, women and men, which can be used with all standard passive 3D technologies. Other features of the EX3D glasses are:
The curved, patented glasses reproduce 3D images in high resolution and with extremely high contrast and minimize deviations caused by light, distortion and clouding. Even images at the edge of the glasses are sharp.

The glasses are impact-resistant, and their special hardened coating provides protection against unwanted scratches.

Each model in the EX3D collection is certified according to both RealD and MasterImage. These two leading 3D projection techniques together cover about 80 percent of the 3D cinema market. EX3D is the only brand to meet both certifications.
Prices are 25 GBP for glasses with plastic frames and 50 GBP for glasses with metal frames. The glasses will be available in the UK from September 2011 at electronics stores and premium cinemas.
"Excellent design, good fit and a high level of wearer comfort were key to the development of EX3D glasses, in addition to the display of 3D images", says Günther Herrmann, Director of Business Development EMEA at Marchon 3D. "Consumers are investing more heavily in 3D electronics and are now increasingly looking for 3D glasses that are both aesthetically appealing and technologically sophisticated. Conventional cinema 3D glasses cannot meet these requirements. The unique HD premium lenses of the EX3D collection guarantee a unique 3D viewing experience – whether in the cinema or at home, for 3D movies, 3D games consoles, 3D TVs or 3D laptops."
About Marchon 3D
Marchon3D (www.marchon3d.com) is a subsidiary of Marchon Eyewear founded in July 2010, and markets 3D glasses with M3D technology. With this patented process, 3D glasses are bent and mounted in premium frames that offer excellent fit and comfort for a unique 3D experience. M3D glasses provide images in high resolution together with full protection against UVA, UVB and UVC rays.
For more information: www.marchon3d.com, www.EX3D.com
About Marchon Eyewear, Inc.
Marchon Eyewear was founded in 1983 and is one of the world's largest manufacturers and distributors of quality eyewear and sunglasses. The company markets its products under various labels such as EX3D, Calvin Klein, ck, Coach, DIANE von Furstenberg, Disney, Emilio Pucci, FENDI, Flexon, Jil Sander, KARL LAGERFELD, LACOSTE, Michael Kors, Nautica, NIKE, Salvatore Ferragamo, Sean John, Valentino and X Games. Marchon Eyewear has approximately 2,500 employees worldwide. In addition to its headquarters in New York, the company has branches in Amsterdam, Hong Kong, Tokyo and Venice as well as sales offices in more than 100 countries.
For more information: www.marchon.com
Press contact at IFA:
Günther Herrmann
Marchon Europe
Phone +31 646 058 166
gherrmann@marchon.com
Robert Roessler
MHP Communications
Phone +44 7738 887141
robert.roessler@mhpc.com