13 February 2018, London – COTTON USA is pleased to announce its sponsorship of Marques'Almeida at London Fashion Week this February. The designers will be supported by the highly coveted programme that has historically benefited a wide range of emerging and leading fashion designers, such as palmer//harding and Faustine Steinmetz, to showcase their talent and bring their creations to life through the use of U.S. cotton.
This A/W18 season, Marques'Almeida – a highly praised designer brand and womenswear duo – have evolved their collection with support from COTTON USA, and will be showcasing their latest work in a catwalk show at Leake Street, London, on Monday 19th February 2018. Based on the highest quality materials and fibres, and inspired by women's style from all over the world, the designers' latest collection combines compelling technical designs with an ethos of freedom and empowerment.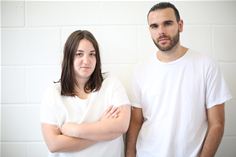 Marta Marques and Paulo Almeida
After completing the acclaimed fashion programme at Central Saint Martins, Marques'Almeida's Marta Marques and Paulo Almeida launched their very first collaborative collection in 2011. They were named Emerging Womenswear Designer at the British Fashion Awards in 2014 and have since been recognised for their collections that "define the complex nature of femininity in this day and age".
Stephanie Thiers-Ratcliffe, International Marketing Manager at COTTON USA, commented: "It is fantastic to be able to work with designers that are as innovative and talented as Marques'Almeida. The way their collections have evolved over the years is testament to the kind of versatility you can only achieve by working with high quality fibres like U.S. cotton. We're so excited to be working with designers who truly embrace U.S. cotton and have the same values as ours."
"Consumers are increasingly demanding garments that are made from materials and fibres they can trust. Just like COTTON USA, Marques'Almeida are passionate about this process, which is why we are so thrilled to be partnering with them at this year's London Fashion Week."
Marta Marques/Paulo Almeida of Marques'Almeida added: "We're extremely excited to be working with COTTON USA at this season's London Fashion Week. We know we can trust the quality of U.S. cotton, meaning we can focus completely on expressing the vision of our designs, safe in the knowledge that our pieces are made from only the best."
For more than a decade, COTTON USA's London Fashion Week sponsorship programme has provided a valuable platform for designers to elevate their profile and expand their individual brands. Previous recipients of the sponsorship include Richard Nicholl, Meadham Kirchhoff, PPQ, Preen and Louise Gray.
Marques'Almeida will present their AW18 collection at 26 Leake Street, Waterloo on Monday, 19th February 2018, at 12.00pm.
- Ends -
Cotton Council International (CCI) is a non-profit trade association that promotes U.S. cotton fiber and manufactured cotton products around the globe with our COTTON USA™ Mark. Our reach extends to more than 50 countries through 20 offices around the world. With more than 60 years of experience, CCI's mission is to make U.S. cotton the preferred fiber for mills/manufacturers, brands/retailers and consumers, commanding a value-added premium that delivers profitability across the U.S. cotton industry and drives export growth of fiber, yarn and other cotton products. For more information, visit cottonusa.org.
Contact: COTTON USA
Name: Alex McDonald / Kerry Lennox
Tel: 0203 176 4700
Email: COTTONUSA@kaizo.co.uk
www.cottonusa.co.uk