Analytics innovator Wins "Autonomy and Big Data in Defence" Contract with Ministry of Defence
LONDON, UK – March 17, 2016 – Massive Analytic Limited, an Artificial Intelligence pioneer, has been awarded a contract with the Ministry of Defence (MOD) through the Defence Science and Technology Laboratory's Centre for Defence Enterprise (CDE) to develop technologies for "autonomy and big data in defence". The contract was won as part of the largest ever competition run by CDE. It called for a proof-of-concept research proposal for innovative component technologies and techniques to acquire, process, analyse and visualise data to support decision making by both humans and autonomous systems.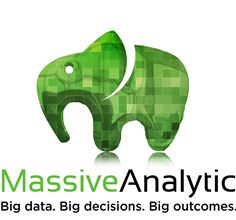 Massive Analytic Logo
In its winning submission, Massive Analytic proposed a novel big data analytics platform for operational tactical planning and support, using persistent surveillance and its own patented artificial precognition, the brain behind its analytics platform, Oscar. The system will bring together multiple static and dynamic surveillance data sources, outputting predictions with high degrees of accuracy. When completed, the project is intended to mitigate the effects of data deluge on military surveillance analysts by providing advanced autonomous functions, facilitating the dissemination of critical insight and intelligence across the chain of command via an interactive data dashboard. Live insights from real-time data streams will become clearer and actionable far more quickly allowing quicker responses to immediate threats. Advanced planning for a diverse range of peace keeping and humanitarian scenarios will become sharper, thereby mitigating risks and allowing planning for possible eventualities.
Underpinning this new platform are several innovations including video precognition (a type of deep learning based on Oscar's evolving artificial precognition) and multi-stream data synthesis. The end result will provide users with a platform to predict outcomes dynamically through deterministic and heuristic models, allowing advanced planning for diverse and evolving scenarios.
George Frangou, Founder and CEO at Massive Analytic says, "We're delighted to have won this contract with CDE and are looking forward to the work we'll be doing together. I believe Oscar provides an innovative and unique solution to the surveillance challenges being faced today. With Oscar's video precognition and the ability to analyse multiple streams of data, analysts will soon have an edge both in real-time scenarios and in advanced planning."
This project establishes Massive Analytic as a leader in innovative data solutions, following the Knowledge Transfer Partnership project with UCL which began last year.
Jim Pennycook, Head of Operations at CDE, says: "In the CDE-run Defence Growth Partnership Innovation Challenge competitions, we worked with the UK Defence Solutions Centre to identify themes where significant challenges exist for defence and there are attractive future export markets. Big data was one of these important themes and I'm very pleased that innovative small companies such as Massive Analytic are bringing their expertise to defence."
About CDE
CDE funds novel, high-risk, high-potential-benefit research. We work with the broadest possible range of science and technology providers, including academia and small companies, to develop cost-effective capabilities for UK armed forces and national security.
CDE is part of the Defence Science and Technology Laboratory (Dstl) and ran the Defence Growth Partnership Innovation Challenge.
About Massive Analytic
Massive Analytic is a London-based analytics innovator, with patented world leading technologies and global big data heritage. Founded with the vision of making effortless data driven decisions a reality for businesses, Massive Analytic has a disruptive vision for changing the way we interact with data with our product Oscar.
The company is privately funded and its innovation has been recognised and awarded with multiple Small Firms' Merit Award's for Research and Technology (SMART), for innovation, the latest of which was granted in 2015 for 'Video Precognition'. It has also been awarded a Knowledge Transfer Partnership (KTP) grant from Innovate UK and is a member of the Lockheed Martin Virtual Technology Cluster.
Massive Analytic is a Microsoft Azure and Amazon Web Services (AWS) partner and provides its analytics software as a service to its customers through the above two cloud platforms.
For more information, visit: www.massiveanalytic.com
Contact Massive Analytic: contact@massiveanalytic.com
Connect with Massive Analytic on social media:
On LinkedIn: www.linkedin.com/company/massive-analytic
On Facebook: www.facebook.com/MassiveAnalytic
On Twitter: www.twitter.com/Massiveanalytic