Store, access and share your medical history securely and safely from your iOS device
London, UK - 18 December 2014 - The free Medelinked App is now available for iPhone, iPad and iPod touch on the App Store. It provides users with peace of mind that if they need urgent medical treatment at home or abroad, their secure medical history can be quickly and safely accessed and shared from their iOS device.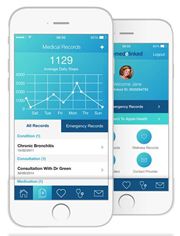 Free Medelinked App on Apple iOS
Medelinked enables individuals to record a range of medical details including allergies, conditions, immunisations, medications and tests and the ability to store images of scans, and x-rays to complete their health profile as well as storing insurance and other documentation.
Secure cloud
Patient's medical records are held securely using the Medelinked Health Cloud system. The user has sole control over the information that is stored and whether they wish any healthcare individual or organisation to view any part of their medical history.
The customer can also choose any information they would like to store in a password-protected Emergency Records area, which a chosen family member or colleague can immediately access in the event of an emergency.
Partners in their own healthcare
According to its recent report `Healthcare and Life Sciences Predictions 2020`, management consultancy Deloitte believes that by 2020 consumers will accept they are largely responsible for their own health and that informed and demanding patients will be partners in their own healthcare.
In this era of digitised medicine, new business models will drive new ideas. In many cases patients are already setting the agenda. For instance Deloitte notes in the report that US consumers' use of electronic health records across all age groups has doubled in the last five years - from eight to 16 per cent - with over half the US population being `very comfortable` or `somewhat comfortable` with the idea of electronic interaction with medical professionals.
The future now
Ian Gallifant, founder and CEO, Medelinked says: "We are now seeing a dramatic shift in healthcare - individuals have a heightened interest in their own wellbeing and are increasingly interacting with personal technology to manage their lives.
At the same time, people are realising they have choices, are gaining control and knowledge and proactively engaging with health issues. The realisation of support and education from online technology and apps and their increasing availability is driving new opportunities for improved healthcare services and better outcomes.
Personal electronic health records are the way forward for effective healthcare in the future. It starts with past health information being stored in an easily accessible way but offers the prospect of future health scenarios being generated through predictive analytics from large databases of information including lifestyle data, as well as medical intervention choices."
The Medelinked App is available free from the App Store on iPhone, iPad or iPod touch or at www.AppStore.com or https://itunes.apple.com/app/id934020071.
For further information
Ian Gallifant: 07879 994944 iangallifant@medelinked.com /Jonathan Simnett: 07976 227224 jsimnett@bigstickcommunications.co.uk
About Medelinked
Medelinked was founded in 2005 as Zaptag in order to allow individuals to use mobile technology and the cloud to increase the effectiveness of health care by enabling them to securely build their health profile online and to connect and share with their network of trusted health partners.
Managing all their health data in one place helps individuals securely track and monitor improvements easier and quicker and share vital data with their healthcare providers (doctor, consultant, insurer) to ensure they have access to their latest health data. This enables them to provide the best possible care and it keeps the individual in control of their own health.
The Medelinked Health Cloud and API is also allowing developers to create series of new applications that deliver real health benefits to the end user.