Regarded as a leader for innovation in mobility, Daimler's battery research and development expert, Benedikt Friess, will share battery development and Daimler's e-mobility strategy at Argus Batteries in Automotives, which is being held on 18-19 September in Wiesbaden, Germany. The live on-stage interview will explore Daimler's focus on the drive towards e-mobility. Benedikt will also examine current challenges in finding the optimal balance between energy density, operational stability and cost-efficiency for batteries and will discuss how this fits in with Daimler's strategy for reducing battery cost.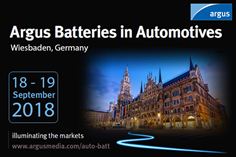 Argus Batteries in Automotives
The latest developments in electric vehicle technology, and how European car manufacturers are changing strategies to meet EU emissions targets, will be tackled by Groupe Renault's Catherine Girard — Expert Leader Energy and Raw Materials. Identifying the remaining barriers to growth in European and global hybrid and electric vehicle sales, Catherine will address how technology roadmaps for global and European original equipment manufacturers (OEMs) will help to overcome barriers to growth in the sale of electric vehicles.
The future of the customer-centric vehicle will be mapped by Nissan Motor Corporation's Ana Paola Reginatto, European LEAF Product Manager — Electric Vehicles, in an address that will look at efforts to increase the availability of charging infrastructure and minimise charging time. Efforts to develop economically and environmentally sustainable vehicles will be explored alongside advances in research and development and insight into the availability of raw materials.
Mercedes Benz-Daimler, Groupe Renault and Nissan Motor Corporation will be joined by industry experts, including:
Bjarni Freyr, Chief Technology Officer, Fenris Motorcycles
Yuan Goa, Chief Executive Officer, Pulead Technology Industry Co
Martin Rheinfurth, Senior Manager Mobility Industry Advocacy and Environmental Policy, BASF
Vaneet Kumar, Executive Vice-President and Chief Technology Officer for Electric Vehicles and Energy Storage, ACME
Boris Monahov, Programme Manager, Advanced Lead-Acid Battery Consortium (ALABC) – A Programme of the International Lead Association (ILA)
Manfred Limbrunner, Chief Technical Officer, Proton Motor Fuel Cell
Katharina Winbeck, Head of Transport, Environment and Infrastructure Policy and Public Affairs Division, London Councils
Angela Lee, Manager of Overseas Department, Do-Fluoride Chemicals Co
Antony Harper, Director, Faraday Battery Challenge, UK Research & Innovation
Joseph Beretta, President, AVERE – France
Further information about the conference is available online at https://www.argusmedia.com/conferences-events-listing/batteries-in-automotives?utm_source=pr&utm_medium=pr_campaign=Lon-Conf-ABA18-realwire
For enquires contact Teri Arri at teri.arri@argusmedia.com
---end---
About Argus Media
Argus is an independent media organisation with more than 850 staff. It is headquartered in London and has 21 offices in the world's principal commodity trading and production centres. Argus produces price assessments and analysis of international energy and other commodity markets, and offers bespoke consulting services and industry-leading conferences.
Companies in 140 countries around the world use Argus data to index physical trade and as benchmarks in financial derivative markets as well as for analysis and planning purposes.
Argus was founded in 1970 and is a privately held UK-registered company. It is owned by employee shareholders and global growth equity firm General Atlantic.
ARGUS, the ARGUS logo, ARGUS MEDIA, ARGUS DIRECT, ARGUS OPEN MARKETS, AOM, FMB, DEWITT, JIM JORDAN & ASSOCIATES, JJ&A, FUNDALYTICS, METAL-PAGES, METALPRICES.COM, Argus publication titles and Argus index names are trademarks of Argus Media Limited.