The Michelin Guide Great Britain & Ireland 2012 is available today in bookshops, priced at £14.99 (€17.99 in Ireland).
This year's guide sees the first British pub to be awarded two Michelin stars. The Hand and Flowers in Marlow, Buckinghamshire, was opened by Tom and Beth Kerridge in 2005 and received its first Michelin star the following year.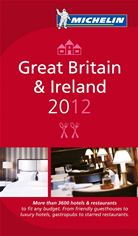 Michelin Guide Great Britain and Ireland
Editor Rebecca Burr said "This is a good news story for the British pub industry and confirms our view that pubs serving good food are the ones that continue to thrive. In the 2012 guide we are delighted to have 13 pubs with Michelin stars".

At the Hand and Flowers, Tom's cooking has risen to new heights. His dishes are sophisticated yet familiar, and are a perfect match for the relaxed surroundings of his charming pub".
The second restaurant to be promoted to two star level in the 2012 edition of the guide is Restaurant Sat Bains in Nottingham. Sat's cooking has always been original and creative and now focus has been added to the flair. The restaurant gained its first star in 2003.
This year's guide, published for the first time before Christmas, sees a wide geographical spread of new stars, stretching from the Driftwood Hotel in Portscatho, Cornwall to Glenapp Castle in Ballantrae, Scotland. There are three new stars in Scotland, one in Wales and four in London, which include 'Dinner by Heston Blumenthal'. There are also three new pubs with one star.
The guide also highlights those restaurants that represent value for money. We are therefore delighted that this year a further 28 restaurants have been awarded a Bib Gourmand, the award given to those establishments offering good cooking but at moderate prices.
Rebecca Burr said "Our readers have told us how much they enjoy these places so we are very pleased that our inspectors have found so many new ones, particularly in London".
Also launched today is the Michelin Guide London 2012, priced at £10.99(€12.99 in Ireland). This guide provides extended text on London's restaurants, with additional photographs and information on all starred establishments. It also includes a selection of London's best hotels, across all categories.
Ends…
For a review copy please email your request with your name, address and the publication in which it will be reviewed to: paul-m.cordle@uk.michelin.com
For press information call: +44 (0)1782 402341
About Michelin
In the UK, the Michelin Tyre Company Ltd was incorporated on 11 May 1905 and is now, more than one hundred years later involved in many activities not just tyre making, from tyre industry training to economic development and publishing.
We have an extensive sales force supporting the thousands of tyre distributors in the UK and the Republic of Ireland from car tyre to truck, agricultural as well as specialist industrial and earthmover, this is backed by a comprehensive sales and technical support.
When the Michelin Tyre Company Ltd was incorporated in 1905 it started a journey that has lasted over one hundred years. A journey that has had many twists and turns and more than a few surprises. Join us in this journey and learn how we have helped the travelling public over the years. Our heritage module documents that journey, the link below will take you there.
Discover how Michelin has shaped the history of motoring and transport in the UK since 1905