Helsinki 10 December 2012 - Miivies, a leading provider of user-created animation technology, has announced a product line of 3D animation applications for mobile devices. The first application is Greetings3D, an iPad and iPhone app for creating personalized Santa Claus videos. The users can share their Christmas videos with their Facebook friends.
The mobile product line is based on the Miivies animation application technology, which provides support for audio recording, lip-syncing, character control, lighting and rendering. The user-created animations can be rendered off-line in high resolution for TV broadcasting.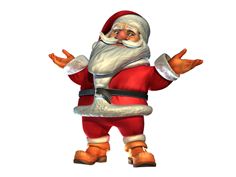 Greetings3D Santa Claus
"We are constantly looking for characters with strong emotional link to the target audience. Santa Claus was a perfect character for the first mobile animation app. For the upcoming titles, we are negotiating with variety of leading US and global brands to deliver a portfolio of stunning 3D animation apps", tells Erkki Heilakka, founder and CEO of Miivies.
"We are very excited about the tablet PC and smartphone opportunities. Mobile animation applications are replacing browser-based and standalone solutions rapidly because casual animators simply love touch-based user interfaces. Clearly, the future is in mobile devices."
"Apple iOS is a perfect platform for creating 3D animation applications. It provides excellent support for intuitive user interfaces, audio and video processing, 3D graphics and rendering in the operating system level. We see iOS devices driving the emergence of the user-created animations", tells Heilakka.
The Greetings3D app is available at the Apple iOS App Store.
About Miivies
Miivies is a specialist in user-created and Internet-based 3D-animation technology. The Made In Internet Movies™ technology developed by Miivies enables creating 3D animations on the Internet via web browsers and mobile devices. Miivies was founded in 2010 and is based in Helsinki.
For more information:
Erkki Heilakka, CEO, Miivies +358 (0)40 568 4545 erkki.heilakka@miivies.com
www.miivies.com