UK households looking to purchase a new computer could save £397 on average via simple memory upgrades
London UK (22 Aug 2012) – We've all been there with a computer that suddenly begins to move at a snail's pace and then the hour glass sets up residence on our screen. Yet while most of us wouldn't scrap a car which has simply lost a few horsepower, or sell our house just because our boiler had blown up, the same cannot be said for our computers. Instead Brits reveal they have a costly 'out with the old and in with the new' mentality.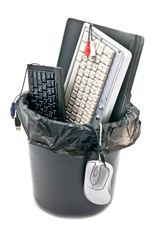 Computer in bin
According to a recent survey commissioned by computer upgrade site Crucial.com, UK households could make a saving in the region of £1.78billion every year by upgrading their existing computer system with extra memory - instead of purchasing an expensive, new computer. The survey of more than 2,000 Brits ages 18-70[2] revealed that more than half (57%) of those surveyed are looking to purchase a new computer this year. For 41% of those looking for a new machine, frustrations with their current computer was rated as the primary reason for the considering the purchase. These frustrations range from their computer running too slowly to it having memory-related issues which impact on performance. And it really is out with the old for these machines, with those surveyed not just wasting large sums of money on their unnecessary new machine, but a quarter (25%) admit that they don't pass on their viable old machines either, choosing instead just to throw them out.
The Brits surveyed overwhelmingly agreed that they wish computers would last longer (83%) with two thirds (66%) saying they would put off the expense of buying a new computer if they could make their existing machine more powerful. And yet, instead of prolonging the life of their existing computer, individuals continue to shell out almost £400 on each new computer instead of the £64 a memory upgrade would cost[3].
Roddy McLean, marketing director of Crucial.com, said:
"People are unaware of just how easy it is to save money simply by upgrading the memory in their poorly performing computers. As a nation we should have a better understanding of our home computers to ensure they perform at their best and last longer. Our aim at Crucial.com is to provide computer users with a simple, effective means of finding the right memory products for an inexpensive Do-It-Yourself upgrade."
For more information about how to find an affordable memory upgrade for nearly any computer, visit www.crucial.com/uk
Please follow Crucial on Twitter at @CrucialMemory, "LIKE" Crucial at www.facebook.com/CrucialMemory, and subscribe to our videos at www.youtube.com/crucialmemory.
###
Notes to Editors
[1] £461(Average amount spent on a new computer) - £64 (average amount spent on a memory upgrade on Crucial.com/uk) = £397 cost saving
19,187,450 (Number of households that own a laptop or desktop computer ONS, 2010) / 57% looking to replacing a computer this year = 10,936,847 households
10,936,847 households x 41% with potential memory issues = 4,484,107
£397 cost saving x 4,484,107 = 1,780,190,504
[2] The survey, conducted by The Leadership Factor, polled more than 2,000 people in the UK, aged 18-70
[3] Based on the average price of memory products purchased from Crucial.com over a two week period in May 2012
About Crucial.com
Crucial.com is a leading online retailer specializing in computer memory (RAM) upgrades and solid state drives (SSD), and is an online destination of Micron Technology, Inc., one of the world's leading manufacturers of computer memory products. Crucial.com offers more than 250,000 upgrades for nearly every computer system: home and business, old and new, PC and Mac® computers. Utilizing a suite of easy-to-use, free online tools, including the Crucial System Scanner and the Crucial Memory Advisor™ tools, consumers are able to quickly assess, select, and purchase compatible memory upgrades to restore computer performance, improve system reliability and increase productivity. For more information, visit www.crucial.com.
About Micron
Micron Technology, Inc. is one of the world's leading providers of advanced semiconductor solutions. Through its worldwide operations, Micron manufactures and markets a full range of DRAM, NAND and NOR flash memory, as well as other innovative memory technologies, packaging solutions and semiconductor systems for use in leading-edge computing, consumer, networking, embedded and mobile products. Micron's common stock is traded on the NASDAQ under the MU symbol. To learn more about Micron Technology, Inc., visit www.micron.com.
©2012 Micron Technology, Inc. All rights reserved. Information is subject to change without notice. Crucial and the Crucial logo are trademarks of Micron Technology, Inc. All other brand or product names are trademarks or registered trademarks of their respective holders.
Media Contact(s): Dave Robertson/Victoria Bonner
Kaizo PR
0203 176 4727
Dave.robertson@kaizo.co.uk
Victoria.bonner@kaizo.co.uk
Images available to view and download at http://wp.me/p1jU0O-1z5.