BERLIN, GERMANY – July 27, 2017: The Mobile Marketing Association enters a new phase of growth and activity, adding leading companies to its executive committee including American technology and social media company Snap Inc., leading mobile video advertising and monetization platform AdColony, mobile measurement and attribution provider adjust, mobile marketing analytics and attribution platform provider AppsFlyer, and upday, the company behind a personalized news aggregator mobile app for Samsung smartphones. To date the ranks of the MMA Germany includes original founding members adsquare, Coca-Cola, Facebook, Google, SAP XM, Smaato, Telefónica and Unilever.
"The growth in our membership is aptly aligned with the explosive growth of interest, investment and activity that has allowed Germany to rise up the ranks to be the second largest market by mobile ad spend in Europe," observes Mark Wächter, Mobile Strategy Consultant at MWC.mobi and Chair of the MMA Germany. "This phenomenal expansion supports us in our greater mission to provide a dedicated platform, one that accelerates the transformation and innovation of mobile marketing and advertising, and the technologies that enable their advancement in Germany and globally."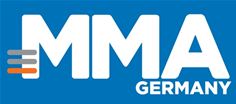 MMA Germany logo
As Peter Würtenberger, CEO, upday by Samsung, and executive committee member of the MMA Germany, puts it: "The industry is witnessing a seismic shift as user attention and advertising budget shifts from desktop to mobile. Against the backdrop of such a significant transformation in how brands and marketers reach and engage their audience it is important to be a part of the MMA Germany, an organization at the foreground of the mobile revolution and positioned to provide input to the standards, best practices and regulations that will drive this change."
Their view of the pivotal position of Germany in the mobile marketing ecosystem is supported by research from global firms including eMarketer. It estimates that digital ad spend in the country, which it ranks number 5 in spend worldwide, will nearly double from $3.5 billion this year to $5.5 billion in 2021. Significantly, mobile ad spend will account for the lion's share of digital ad spending, rising from 57.2% this year to reach a whopping 79.8% of the total in 2021.
To facilitate greater understanding and education around how brands and marketers can successfully use mobile to connect, engage and sell to consumers, the MMA Germany has hosted a series of events and dinners examining trends and opportunities around key topics including mobile video, mobile retail and the future of mobile in cities including Berlin, Hamburg and Munich. Speakers from leading brands and companies such as Coca-Cola, Idealo, Instagram, McDonald's, MediaSaturn, Otto Group, Shazam, Telefónica, Unilever and Zalando have featured, allowing this high-calibre program of thought leadership events and seminars to reach and engage a growing audience of brands, agencies, marketers and mobile industry influencers.
Since the MMA Germany was officially presented to the press on the heels of dmexco - the leading international trade show and conference for the digital economy slated to attract 50,000+ visitors to its doors this year in Cologne - the foundation has been laid to forge a closer collaboration. An outcome of this cooperation is a new partnership naming the MMA Germany one of dmexco's Official Partners for the event.
Fulfilling its remit to provide a platform for sharing practical know-how and actionable insights to benefit the business ecosystem in Germany and beyond, the MMA Germany will also host a series of masterclasses during dmexco free-of-charge to attendees. One will explore how consumers behave in a mobile-first world and the impact on marketing campaigns. The other will focus on mobile attribution and ways to measure the full value of advertising.
While knowledge sharing is central to the MMA Germany mission, the organization is also breaking new ground in experiential education with Berlin Mobile Safari, an invite-only excursion taking place in Berlin (October 13) providing brands and marketers a unique opportunity to "explore" mobile-first marketing and innovation on-location with leading Berlin-based mobile companies including Number26, The Coup and Zalando.
About the Mobile Marketing Association (MMA)
The MMA is the world's leading global non-profit trade mobile marketing association comprised of more than 800 member companies, spanning nearly fifty countries around the world. Our members represent the entire mobile marketing ecosystem, including brand marketers, agencies, mobile technology platforms, media companies, operators and others. The MMA's mission is to accelerate the transformation and innovation of marketing through mobile, driving business growth with closer and stronger consumer engagement. Anchoring the MMA's mission are four core pillars: cultivate inspiration by driving innovation for the Chief Marketing Officer; build mobile marketing capabilities for marketers through fostering know-how and confidence; champion the effectiveness and impact of mobile through research providing tangible ROI measurement; and advocate for mobile marketers. Additionally, MMA industry-wide committees work collaboratively to develop and advocate global best practices and lead standards development. The MMA's global headquarters are located in New York with regional operations in Asia Pacific (APAC), Europe/Middle East/Africa (EMEA) and Latin America (LATAM). For more information about the MMA please visit http://www.mmaglobal.com. For more information about the MMA Germany please visit our website http://www.mmagermany.org, our blog http://medium.com/mmagermany, or follow us on Twitter @mmagermanyorg.
Media Contact:
Peggy Anne Salz
Chief Content Officer
MMA Germany
peggy@mobilegroove.com
Mobile: +49 1722451028