Bochum (Germany), 1 February 2013 - This year, G Data is represented at the Mobile World Congress in Barcelona for the first time. From 25 to 27 February 2013 the IT security expert will present its current mobile security portfolio in hall 6, booth 6E20. The German provider will illustrate how companies can effectively protect smartphones and tablets, how they can effectively implement MobileManagement thanks to G Data Business solutions and how to make sure Bring Your Own Device is under control. In addition to its security solutions, G Data provides information about emerging threat scenarios for smartphone and tablet users and explains how cars could soon be targeted by eCrime.
Bring Your Own Device and MobileManagement under control
To ensure that the integration of mobile end devices, also referred to as "Bring Your Own Device", does not quickly turn into a company-wide disaster, G Data security solutions take into account the complex requirements of heterogeneous networks and protect valuable IT infrastructure. Using the incorporated MobileManagement, administrators can monitor the security status of integrated smartphones and tablet PCs at any time and can intervene directly if necessary. However, G Data's Business Generation 12 with its mobile-based admin offers even more: the web interface lets you make settings from anywhere, irrespective of what device you are using, even on a smartphone.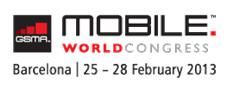 MWC Logo
These technologies are included in G Data AntiVirus, G Data ClientSecurity and G Data EndpointProtection.
MobileManagement: keeping an eye on mobile devices
These days, many companies and their employees consider mobile devices like smartphones part of the basic equipment. Many companies also have a "Bring Your Own Device" policy. This makes it very difficult for administrators to keep track of the number of devices in the network and protect them against malware programs and other online threats. The new MobileManagement now gives administrators a clear overview of all Android devices and enables them to view their security status as well as any viruses detected. All security modules like virus protection, firewall and AntiSpam are client-based, and thus offer fully transparent protection of all end devices and run quietly in the background.
Administration: Anytime and any place
The new remote control allows administrators to access their network solution at any time and from any place, for example, to query the security status, configure the firewall, initiate scans or manage user authorisations.
All-round protection for Android smartphones and tablets
G Data MobileSecurity 2 protects mobile devices against malware, dangerous apps and threats encountered while surfing the Internet. In addition, the smart security solution helps you find lost smartphones or delete their contents from afar to protect them against unauthorised access. The password protection for applications provides additional security as well as the option to separately protect important contacts.
G Data security issues at the Mobile World Congress
"Android is everywhere"
In the future, attacks will no longer be restricted to smartphones and tablet PCs. The integration of Android in cars, smart TVs and appliances creates new attack vectors.
Threats in 2013
How have the threats posed by cyber criminals and malware developed over the last 12 months? What can users expect in the future?
The smartphone as a Trojan horse
The next round of attacks has started for industrial facilities and companies. Security expert Eddy Willems explains how smartphones open company doors to malware authors and spies.
Cyber war not on the horizon
Eddy Willems explains his view on Stuxnet, Flame, Red October and the like.
In his position as Global Security Officer and Security Evangelist at G Data Security Labs, Eddy Willems acts as the interface between technical complexity and users. He is responsible for G Data Security Labs' clear communication with the security sector, the press, retailers, resellers and consumers, and he often speaks at international conferences such as Virus Bulletin, EICAR, InfoSecurity, AVAR, RSA etc. Eddy Willems is available for interviews at the congress. Please make an appointment to speak to him.
About G Data Software AG
Bochum-based G Data Software AG is an innovative and rapidly expanding software house that specialises in IT security solutions. A specialist in Internet security and pioneer in the field of virus protection, the company was founded in Bochum in 1985 and developed the first antivirus program 25 years ago.

This makes G Data one of the oldest security software companies in the world. For more than five years, no other European security software provider has won more national and international tests and awards than G Data. The product range comprises security solutions for end customers as well as medium to large-sized enterprises. G Data security solutions are available in more than 90 countries worldwide.
More information about the company and the G Data Security solutions is available at www.gdatasoftware.co.uk.
Press contact
Daniëlle van Leeuwen
Public Relations Manager
Tel.: +31 (0) 20 80 808 35
Mob: +31 (0) 6 54 660 215
Email: danielle.van.leeuwen@gdata.nl