Partnering with Movilway, MobiWire enters the South American markets with MobiPrint, a GSM-enabled handheld Point of Sale device
Paris, France – 14 February 2011: MobiWire today announced the launch of Mobiprint, a GSM-enabled handheld Point of Sale device, paving the way for mCommerce in developing economies through cellular technology. Ideal for account top-up, bill payment, e-ticketing, even lottery, Mobiprint offers the all functionality and power of a traditional POS system, in one simple connected Java-based device.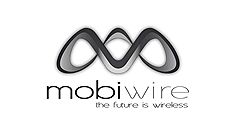 MobiWire logo
Designed and developed by MobiWire in partnership with Movilway, the Spanish-based electronic top-up service, Mobiprint uses GSM technology to enable the transfer of payment information directly to the secure server, immediately providing proof of the transaction. Put simply, customers will be able to pay with the POS device, using cash, and be immediately credited with top up/e-tickets or relevant proof of payment.
Demonstrating its commitment to providing connected applications using a core technology platform of open and standardised components, MobiWire, formerly Sagem Wireless, has worked together with Movilway to realise their combined commitment of developing secure financial services for the unbanked of developing nations.
The first product launched in the South American market in Q4 2010, where a large percentage of the population is unbanked and pre-paid mobiles are prevalent. This is the first step towards further financial services offering easy solutions for a market lacking in traditional and reliable banking and credit facilities. From both a customer and small business owner perspective, MobiPrint's secure and relevant offering has the ability to revolutionise business processes, narrowing the digital divide by meeting the needs of frequently overlooked populations in places like South America, India, Africa, AsiaPac and Eastern Europe.
"As the market evolves there is a need for devices that build on and optimise the convergent technology in both a consumer and business context," explained Jerome Nadel, EVP User Experience & Marketing at Mobiwire. "By using technology to deliver an intuitive and reliable user experience, we can deliver innovative connected services that solve real problems that affect people today and really start to transform markets. We are delighted to use our expertise and understanding of connected devices and user experience to develop a customised core technology platform that, together with Movilway, specifically meets the needs of a frequently overlooked market."
Product Specifications:
Main Features:
2G, GPRS – Bands: 850, 1800 and 1900MHz

Dimensions: 191 x 81 x 55

Weight: ~ 300g

Chargers: EU, US and ARG
Display:

Screen type: TFT QCIF

Screen size: 2 inches
User Interface:

Matrix menu with customer icons
Supported languages:

English, Spanish, Portuguese, French,

Others possible
Power management:

Battery: 900 mAh

Standby time: 320 hours

Printed tickets: ~100 using thermal printer
About MobiWire
MobiWire combines open and standardized components with cutting edge technology and deep user experience integration to deliver connected consumer electronics software and devices. With over 15 years' experience working with mobile network operators and global brands, MobiWire innovates around a core open OS technology platform to design, develop and deliver connected devices and services for OEM customers, exclusive brands and vertical markets. MobiWire brings industry leading technology partners together with its own software and connected services expertise to accelerate the product design and development process and deliver innovative and compelling connected consumer electronics and forthcoming 4G devices. For more information, visit: mobiwire.com
About Movilway
Movilway started in 2010, supported by a corporate holding company that gives it a comprehensive financial soundness. The company has developed services for electronic top-up services that have been adapted to the needs of its customers. Movilway has become the largest and fastest growing distributors of wireless devices in Latin America. Movilway is now entering the next phase of its development, building and deploying a robust and comprehensive mobile money transaction platform (e-wallet), targeting Latin America's "unbanked" mobile subscriber base.
Media Contacts:
International Media
Sarah Smith
AxiCom Cohn&Wolfe (for Mobiwire)
Tel: +44 (0)20 8392 4085
Email: mobiwire@axicom.com
French Media
Laure Bilhere
Cohn&Wolfe (for Mobiwire)
Tel: +33 (0)1 49 70 43 78
Email: laure.bilhere@cohnwolfe.com
Director of Marketing and Communications
Maxim Weitzman
Movilway
Tel: +1 305 614 6004
Email: Mweitzman@movilway.com